Over one-in-10 Welsh children starting school obese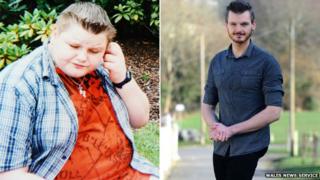 More than a quarter of Wales' four and five-year-olds are overweight - with more than one in 10 classed as obese, say public health officials.
Merthyr Tydfil tops the league for weight issues in young children, with 34% regarded as overweight.
Public Health Wales looked at the Body Mass Index (BMI) of just over 1,000 children starting primary school - with a BMI over 25 considered unhealthy.
Across Wales, 26% were over that BMI - while in England it was just 22%.
The average figures for Wales are also higher than the worst region of England - which is the north-east, where 24% of four and five-year-olds have slipped into the overweight BMI zone.
However, this year's statistics are a slight improvement on last year, when the first BMI survey was published by Public Health Wales (PHW).
PHW consultant Linda Bailey said it was not too late to tackle the problem.
"Simple and easy steps such as replacing fizzy drinks with water, and snacking on fruit instead of chocolate or crisps are the answer for many children this age," she said.
EXPERT'S VIEW
Leading specialist Dr Nadim Haboubi, chairman of National Obesity Forum Wales, bemoans young children not being involved in activities.
"Children have computer games, iPads and they sit there for hours," he told BBC Wales.
"Unlike perhaps when we were children, there's also a genuine fear it's unsafe for young children to be outside playing, unsupervised.
"They eat too much junk food and now in the school holidays you can see them in burger restaurants from the morning onwards - the places are packed.
"I drive from home to work and there are seven 24-hour burger restaurants but no leisure centres open until late."
"Sweets when I was growing up were a treat, something you had at Christmas or special occasions, now they're given out as rewards.
"You've got to detect problems at an early age, so it's down to the parents. Obesity can keeping getting worse like a cancer unless you manage it.
"But for those in deprived areas, healthy food is not very affordable either for a lot of people."
Obesity levels are significantly higher than average in Merthyr, Caerphilly and Rhondda Cynon Taf, and significantly lower in Monmouthshire, Conwy and the Vale of Glamorgan.
'Big excuse'
Nathan Hewitt, from Quaker's Yard near Merthyr, once weighed 23 stone aged 15 - after having ballooned from the age of 10.
Now aged 24, he is 12 stone and a weight loss coach.
He argues that healthy food is within reach of people even under a tight budget.
"Cost is a big excuse," he said. "You can buy healthy ingredients and cook healthy meals cheaply. It's really about convenience. It's easier for people just to go out and buy chips."
He added: "I don't blame my parents for what happened to me. Between the age of 10 and 13 I was fully aware of what I was doing - I was eating for pure pleasure.
"But then there was the vicious circle of eating because I was unhappy and unhappy because I was overweight.
"It's no good telling young children to stop eating - you need to give them a goal to work towards. Losing weight doesn't need to be a chore - there can be something good at the end of it."