Top police officers investigated after fraud case complaint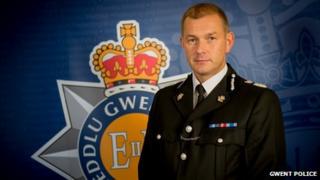 The chief constable of Gwent Police and other senior officers are under investigation following the acquittal of two men in a fraud case.
The force confirmed that the inquiry was under way after a complaint was passed on by the Independent Police Complaints Commission.
It follows a case against Torfaen council employee Farooq Dastgir and businessman Gary Inchcliffe who were cleared of false accounting.
Six officers are being investigated.
They include Chief Constable Jeff Farrar, his predecessor Carmel Napier and four others.
It is understood Mr Dastgir lodged the complaint following his trial.
The case had involved an IT centre run by Mr Dastgir which handled data from his employers at Torfaen, as well as neighbouring Monmouthshire council and Gwent Police.
Prosecution claims of a "sham" invoice submitted by Mr Inchcliffe's company, Camelot IT South Wales, were denied by the defence, who said it was a legitimate document.
The jury cleared both men after considering the case for less than three hours.
The IPCC said: "An initial referral was assessed on the information available by the IPCC and in June we referred the complaint back to Gwent Police for them to deal with. The complaint has since been re-referred to the IPCC with further information, and we will be assessing it."
A Gwent Police spokesperson said it had received the complaint after it was "referred under mandatory criteria to the IPCC".
The force said: "The IPCC have since referred it back to the force for local investigation and the complaint is currently being assessed. It would be inappropriate to comment any further at this time."
Torfaen council also says an investigation is under way.
A council spokesman said: "Mr Dastgir remains suspended pending the outcome of internal processes. It would be inappropriate to comment any further at this time."
BBC Wales has been unable to contact Mr Dastgir and Mr Inchcliffe.