No guarantee Wales to bid for Games, says Carwyn Jones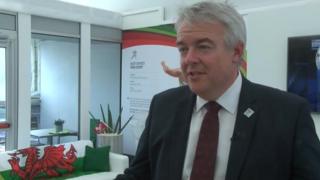 There is no guarantee Wales will bid to host a future Commonwealth Games, says First Minister Carwyn Jones.
On a visit to Glasgow on Monday, he said it would be great in principle to host the Games, but the costs are high, with the Glasgow Games costing about £500m.
He also said Cardiff might not be the only city to be considered as a host.
Mr Jones suggested it could be somewhere that needed to be regenerated, but was also accessible.
In 2012, the Welsh government said it was working with Cardiff council and others on a feasibility study looking at hosting the event in 2026.
In January, the council said no decision will be made until after the Glasgow Games and last week sports minister John Griffiths said it would be "entirely fitting" for Wales to host the Commonwealth Games - and a bid may be considered after reviewing Glasgow 2014.
'Regeneration project'
But speaking in Glasgow on Monday, Mr Jones said: "It would be nice to see what we can do to move to the next step.
"But I don't want to mislead people and say we're on the verge of a bid for the Commonwealth Games."
He also indicated that Cardiff might not be the only city in Wales under consideration to host the Games, adding: "We would have to find somewhere in Wales that needed to be regenerated but that was also accessible. That's what they've done here in Glasgow. It's been a regeneration project.
"I don't think it would be right to have the Games in one place. It would be more of a regional event - not just focused on one city.
"Look at these Games. The shooting is in Dundee, the diving in Edinburgh."
'Marvellous'
Mr Jones has been meeting members of Team Wales at the athletes' village during his visit.
The team has already won 20 medals at Glasgow with rhythmic gymnast Frankie Jones leading the way with a gold and five silvers.
Reflecting on the achievements of Team Wales, Mr Jones said: "It's marvellous - we're all proud of what they've achieved."