Doctor Who goes live with UK-wide symphonic spectacular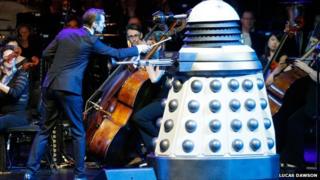 Doctor Who is preparing to take to the stage with live music and a cast of 100 actors and singers - and Daleks.
More than 100 actors and singers will take part in the Doctor Who Symphonic Spectacular next May, with music performed by the BBC National Orchestra of Wales.
The Time Lord's famous adversaries, including the Daleks and Cybermen, will also appear.
Music composed by BAFTA-winning Murray Gold will also be played.
It will be accompanied by a large screen presentation of iconic Doctor Who moments from the past 50 years.
Cities included in the UK tour include Cardiff, London, Birmingham, Leeds, Newcastle and Glasgow.