Emergency services urge caution as hot weather continues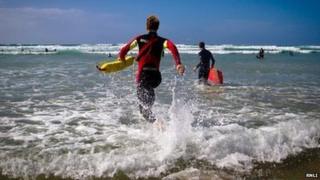 Emergency services have warned people not to put themselves at unnecessary risk as the warm weather continues into the start of the school holidays.
"Tombstoning", swimming in docks and reservoirs, understanding strengths of tides, anti-social behaviour, grass fires and trespassing on railway lines are the main issues.
In recent months there have been various incidents, including deaths.
Extra patrols are being put in place in some locations.
Bridgend is one of those areas with officers patrolling the streets in a bid to curb anti-social behaviour as more young people spend time outdoors during the summer.
And extra checks will be made in Port Talbot where South Wales Police officers visited schools before the end of term to explain the dangers of swimming in the docks.
Hidden objects
The RNLI said 17 people drowned or died in water-related accidents around the Welsh coast in 2013.
They include tombstoning - an activity which involves jumping off cliffs or other high points into water - which has led to a number of injuries and even deaths across the UK.
It is a particular problem in Milford Haven with strong currents and hidden underwater objects such as timber just two of the dangers.
Beach-goers have also been urged to take care of strong currents and fast-moving tides - problems which have seen several coastguard rescues.
Most recently, a group of swimmers near Sully island needed treatment after struggling against the incoming tide while at Barmouth, Gwynedd, two teenagers were rescued after their dinghy was blown offshore.
Earlier this year, a dog walker drowned at Cefn Sidan beach in Carmarthenshire after being cut off by a fast-moving tide.
Meanwhile in mid and north Wales, British Transport Police have asked holidaymakers visiting campsites along the route of the Cambrian railway line to stay off the tracks.
Sgt Karl Anderson said: "As well as highlighting the issue to holidaymakers, I would also urge owners of local holiday parks, B&Bs and campsites to make visitors aware that there is a railway nearby and to reiterate the safety message to them."