Bodelwyddan garage lost £25k to fake-tanks-in-van fraud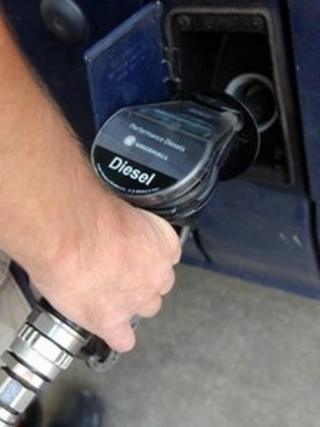 A Denbighshire garage lost more than £25,000 worth of diesel in just over a week after fraudsters using a van with adapted large fuel tanks targeted it.
Staff at the Esso Services on the A55 at Bodelwyddan shut off the pumps when they saw Mohammed Hussain and Haroon Rashid return yet again in May 2012.
Hussain, 34, of Manchester, was jailed for 12 months after being convicted of three fraud offences.
Rashid, 31, of Oldham, admitted four frauds and possessing bogus fuel cards.
He was given a nine-month prison sentence suspended for 12 months with 300 hours unpaid work and was told to pay compensation of £900.
The court heard the Ford Transit van looked normal but had two hidden 1,000 litre tanks in the back to take the fuel, paid for with fake fuel cards.
'Sophisticated scam'
Sion ap Mihangel, prosecuting, said Rashid had only obtained £10 worth of fuel after staff at the garage had their suspicions about his frequent return and shut off the pumps.
The pair drove off but were stopped by police who seized their fake fuel cards and the adapted van.
The vehicle was used to take 2,000 litres of fuel during one journey, the court heard.
Judge Niclas Parry said the pair were part of a larger, sophisticated fuel scam which police were investigating.
False applications had been made for fuel cards and they were used to obtain tens of thousands of pounds worth of fuel throughout the north west and north Wales, he said.
He told them: "This fraud would not have been possible without people like you playing the roles that you did."