Special needs pupils 'will be worse off', expert warns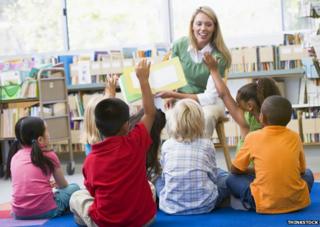 Children with special needs in Wales will be worse off than those in England if a new law is passed, a leading education solicitor has claimed.
Mike Charles said it was unclear whether a planned replacement for statements of special educational needs would still be enforceable by law.
He said improvements seen in England were also missing from the Welsh plans.
The comments come as consultation ends on the Welsh government's white paper on additional learning needs.
Mr Charles told BBC Wales the proposed changes do not go far enough to protect the needs of Welsh children.
Currently, the parent of a child with a special educational need asks the local education authority (LEA) to complete an assessment.
The most severe cases - around 4% of all pupils - receive a statement, a formal document outlining the child's learning difficulties and support to be given, enforceable by law.
Mr Charles fears that its planned replacement - the Individual Development Plan (IDP) - may not have this legal status.
'Missed opportunity'
The IDP would also apply to children with less severe needs, currently categorised as "school action" or "school action plus", whose parents can make a more informal request from the school for an Individual Education Plan.
If the proposals become law, IDPs would apply to all children with additional learning needs, around one in five of all pupils.
In a letter to the Welsh government Mr Charles asks whether the LEA or the school would be responsible for assessments under the new system.
He also says that while the system in England will now involve health authorities, it was a "missed opportunity" not to include them in the Welsh proposals.
Mr Charles also asks if the 12,530 children in Wales currently with statements will keep them or whether they will be switched to the new system of IDPs.
The Welsh government said: "The consultation on this important issue ends today and we are grateful to all those who have shared their views with us.
"They will be considered in conjunction with all other responses to the consultation and we will publish our response at the appropriate time."