Rowan Saxton and pet Henry lead way in canicross dog racing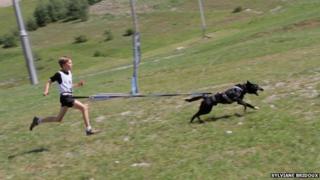 A Monmouthshire schoolboy and his pet are among the top teams in Europe in canicross racing which sees a runner and a dog tied together to compete.
Rowan Saxton, 12, who attends The Grange Monmouth Preparatory School, races with kelpie cross, Henry.
The pair, linked by a 2m (6ft) bungee, have lifted the junior champion trophy for the past two years.
"He's like a cheetah, said Rowan about his teammate. "I call him the fastest dog in the world."
He added: "He does fly. Every picture someone takes of us racing, I'm hovering.
"It's frightening and I get nervous but it feels good because you're flying through the air.
"I did a face plant once - I went down on my face the whole way down a hill covered in mud.
"My favourite part is racing uphill because everyone else struggles but I don't because of Henry - he hates being overtaken."
Recent successes include winning the Under-15 AAA series in France, Belgium and Holland between March and June.
The pair return to the French Alps in October in a bid to claim the Trophee des Montagnes (TDM) for a third time.
The TDM is an 11-stage mountain running event over nine days, attracting competitors from around the world.
Canicross is a mixture of dog-walking and cross-country running in which participants are tied to their dog before taking to the trail.
'Pretty unbeatable'
The sport is already popular in Europe, where it is used to train dog-sled teams,
The first race in Britain was held in 2003.
Rowan's mother, Claire Clark, who has 11 dogs at home and who also competes in the sport, said her son took the lead in wanting to take up the sport.
She said: "He was competing with one of our collies in agility when discovered he enjoyed cross country running and that he was good at it.
"Canicross meant he could combine his love of running with his dog.
"Rowan and Henry have gone from strength to strength. They are a formidable and pretty unbeatable team."