Police crackdown on people using train stations as toilets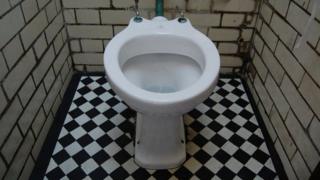 A campaign has been launched to clamp down on people using railway stations as toilets.
There has been an increase of people urinating and defecating on station premises, particularly in lifts, according to British Transport Police.
Officers will be on patrol at stations and on trains across North Wales in a bid tackle the problem.
They also appealed for information about a man they want to speak to about an incident at Prestatyn station.
Last month CCTV cameras caught the man running to the station's lift and what happened while he was inside it.
"This is very much about standards of behaviour, often influenced by alcohol consumption," said British Transport Police Sgt Tony Stamp.
"While this is low level criminality and in the ideal world, not something we should have to focus on, we recognise the wider implications, the views of, and the impact on, people affected by this type of incident.
"This conduct often occurs in lifts, which are there for people with mobility issues who rely on them to get to and from platforms.
"On other occasions, these acts have been committed in full sight of other passengers."
Mr Stamp said it was frustrating as there are toilets available for use at stations or on trains and over the last 12 months, 55 people have been dealt with for public disorder offences.
Anyone with information is asked to contact British Transport Police on 0800 40 50 40.