Merthyr Tydfil mother backs reservoir danger campaign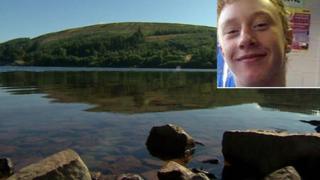 A mother whose teenage son died in a reservoir accident has backed a campaign warning of summer swimming dangers.
Water companies are warning people not to venture into reservoirs to cool off and swim during warm weather.
It follows the deaths of three swimmers in the past two months after getting into difficulty in the water.
Reuben Morgan, 15, from Merthyr Tydfil, drowned in 2006 and his mother said his death had had a massive impact.
Swimming in the Pontsticill Reservoir was a challenge with a group of 10 friends, while they camped nearby after their GCSE exams in June 2006.
Reuben's friends made it across but after disappearing under the water three times he did not resurface. It took divers three days to find his body.
His mother Maxine Johnson said: "They couldn't pinpoint where he was in the reservoir, which was really traumatic.
"I was a bit naive - I didn't think he'd go in the water, why I didn't think that, because he was a very adventurous boy.
"He thought he was invincible - he was a very strong fit boy and he had the stature of a man and worked out in a gym.
"I suppose he thought he'd be able to get across. Knowing what I know now about the dangers of reservoirs, for Reuben it was the coldness of the water - the freezing temperatures that killed him."
Reuben's friend Lauren Jennings, who now works for Welsh Water, said: "The evening before we were all in the reservoir. The scariest thing is there were 11 of us swimming, it could have been any of us or all of us.
"Although it happened eight years ago, it's like it happened yesterday."
Dwr Cymru Welsh Water, which maintains 80 reservoirs, said repeated warnings were being ignored.
Two people died at Pontsticill and Cantref reservoirs last year and people have been reported swimming in the past few weeks at Llwyn Onn in the Brecon Beacons and Bwllfa Dare in Aberdare.
Chris Jones, chief executive, said: "These are dangerous places and not safe for swimming.
"They might look safe and placid but the water is very cold and very deep, the banks can be steep and there are currents there can suck you under.
"We don't want to put people off coming to reservoirs but stay out of the water."
Head ranger Tony Busby patrols the reservoirs and he said there were hidden dangers with pumps and machinery which could not be seen on the surface.
"They're like building sites covered in water," he said.
"We have to be really vigilant. A lot of people don't realise they're doing wrong or the dangers there. We try and tell them as forcefully and politely as we can of the risks."
RESERVOIR PERILS:
Automatic equipment under the surface of the water can sometimes operate without obvious warning
Very cold and deep water can cause even strong swimmers to find themselves in difficulty
Most reservoirs are in remote locations, with little or no mobile phone reception, so the chance of rescue is greatly reduced
Source: Dwr Cymru Welsh Water