Baroness Ilora Finlay: Assisted dying bill 'too dangerous'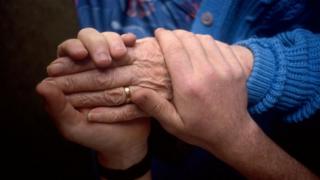 Plans for a new law on assisted dying lack proper safeguards, says one of the country's most eminent end-of-life doctors.
The bill before the House of Lords would allow doctors to prescribe a lethal dose to terminally ill patients with less than six months to live.
Supporters say it would give people control over when they die.
But Baroness Ilora Finlay, an adviser to the Welsh government on palliative care, said it would be "too dangerous".
"This isn't about a right to die, we're all going to die," she told BBC Wales News.
"This is about a right to have somebody assist your suicide, aiding and abetting your suicide.
"It's too dangerous to allow the law to be changed so that somebody else assists and abets your suicide when there are no proper safeguards in this bill."
The second reading of the Assisted Dying Bill, which has been proposed by former Labour Lord Chancellor Lord Falconer, is taking place in the House of Lords on Friday morning.
Case study: Personal choice
Yvonne Tustin from Carmarthen, who was diagnosed with motor neurone disease two years ago, said it was "about time politicians actually got together and talked about it".
"There is no cure for motor neurone disease. There is no chemotherapy, radiotherapy, no transplant, no transfusion," she told BBC Wales News.
"My end is definite - that is how I'm going to die and I would like some control over my life.
"I would like to have that ability to be able to not die in pain and misery."
Paralympic multi-gold medallist Baroness Tanni Grey-Thompson has also spoken out against the bill saying it was "a really dangerous path to go down".
"I already have a number of people who stop me in the street who say I wouldn't want to live if my life was like yours," she said.
"That's why I'm worried that this will be a slippery slope and that disabled people will be included in this at some point."
The bill has won the backing of Lib Dem Care Minister Norman Lamb but does not have the support of Conservative Prime Minister David Cameron.