Bell finally tolls for Ysgol Rhydgaled, Groes after 136 years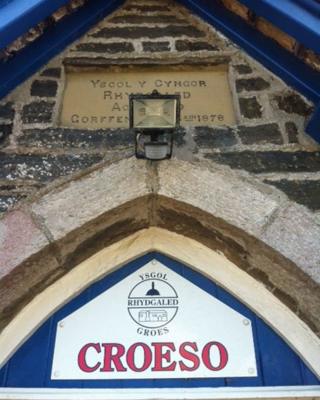 The bell has been rung at a village school on the Conwy/Denbighshire border for the final time in more than 130 years.
The last 19 pupils at Ysgol Rhydgaled at Groes will be transferred to neighbouring schools in September.
Past pupils and staff were invited back for a memorial on the final day.
A campaign to save the school was first launched more than 15 years ago, but it is finally closing as part of a review by Conwy council.
Low numbers of pupils with little expectation of them rising was the main reason for the closure.
Governors opposed the proposal during a consultation in May saying the heart of the community would be "destroyed" and they also have worries for the impact on the Welsh language, although this is denied by the council.
'Middle of nowhere'
Llansannan Community Council has called the closure "heartbreaking," with the school having fostered an "unmistakable feeling of belonging and friendship".
Head teacher Sian Thomas Gelling said the school had brought together pupils from rural areas around Groes.
"We're in middle of nowhere, there are no houses around - the village is half a mile away and there is a village hall there now," she said.
"But the school used to be the hub for the entire community.
"When it opened on 25 July 1878 it could cater for 80 pupils from local farms and the local community."
Denbighshire Archives have the old school log books.
One entry remembers an old pupil, Private Aneurin Owen Roberts, 22, from Glasfryn, who was killed in action in France serving with the Machine Gun Corps on the morning the Armistice was signed on 11 November 1918.
The school hopes to have a community event marking the closure in the autumn.