Hospital death data 'not meaningful'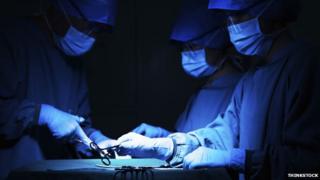 Data used to provide hospital death rates in Wales can be misleading and does not accurately show the quality of care, a review has found.
Prof Stephen Palmer of Cardiff University examined the current system after above-average rates were found at six Welsh hospitals.
His review concluded only Glangwili in Carmarthen needed further work on how it classified some patient deaths.
A new way of judging care that is being pioneered in Wales was better, he said.
This involves reviewing the medical records of patients who die to identify if care was a factor.
Prof Palmer called for this to be standardised across Wales.
His review looked at risk-adjusted mortality index (Rami) scores which have been published since March 2013 as a way of increasing transparency in the Welsh NHS following the Mid-Staffordshire hospital deaths inquiry in England.
Coding
Rami works by judging how many deaths should be expected in a hospital of its kind and measuring the actual number of deaths against that number.
The "normal" rate is 100, and anything above that can lead to concern.
It is calculated by gathering codes used in hospitals to show patient outcome.
Slight differences in how a doctor recorded a death could make a big difference to the way computer programmes interpret the data.
"It's a very attractive concept until you get into the detail of how it's collected and and what it's affected by," Prof Palmer said.
He likened the current Rami system to a faulty smoke alarm which kept going off "so you take out the batteries".
Factors such as whether a patient was a smoker were not counted in the Rami rates.
"You can bring your Rami down by better coding rather than by improvements in care," Prof Palmer added.
He said recording deaths within different clinical groups could be useful measure of outcomes, but they needed to be published in ways that allowed for variation caused by chance.
UK-wide audits
The professor wants to see a national data centre set up in Wales to develop and evaluate both death rates and other outcomes.
He said hospitals and medical staff should be part of UK-wide clinical audits which show performances in relation to each other and allow them to recognise excellence where appropriate.
Deputy chief medical officer Dr Chris Jones said since the death rates had been published: "We have found it all the way along a difficult measure to make sense of."
Health Minister Mark Drakeford said: "As the review says, case note reviews provide a far better indication about whether there are issues which need further investigation.
"Wales has led the way in this area and Prof Palmer's recommendations can help to strengthen this process further."
Shadow health minister Darren Millar AM said it was another example of Labour ministers "attempting to ditch targets and measures which they find embarrassing or inexcusable".
Plaid Cymru health spokeswoman Elin Jones said: "The Welsh government should publish much more detailed data so that it can monitor the standard of care in each hospital much more closely and respond more effectively when problems occur."
The hospitals considered were Neath Port Talbot, Prince Charles in Merthyr, Royal Glamorgan in Llantrisant, Singleton in Swansea, Glangwili Hospital in Carmarthen and Wrexham Maelor.
The review was announced in March by the health minister.
The medical director of the NHS in England in February had suggested persistently high death rates in Welsh hospitals should be investigated, in an email to his Welsh counterpart Dr Chris Jones.
Sir Bruce Keogh said data on rates in six Welsh hospitals was worrying but not adequate to "form a view".