More council staff face job cuts in Wales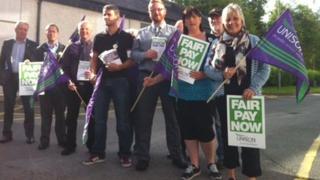 Hundreds of council jobs have been cut and many more could be lost as councils across Wales try to meet savings targets.
Powys council says 290 workers left voluntarily in the last year, out of a target of 400, in a bid to save £20m.
On Thursday, Cardiff council's cabinet will discuss how to save £45m next year, in a move which could affect hundreds of roles.
The Welsh Local Government Association warned the situation would "worsen".
The Daily Post newspaper reported yesterday that Gwynedd council is preparing to shed "at least 100" jobs, although the local authority says it hopes to achieve savings through recruitment freezes, merging responsibilities and not filling vacant posts. A spokesman said no decisions have been made.
Powys's job cuts will be discussed by full council on Wednesday.
A report shows the 290 staff who took voluntary severance include 53 from schools while 23 workers voluntarily reduced their working hours.
Meanwhile, Wales' largest council, Cardiff, is preparing to save up to £45.4m next year.
Last year, the local authority had to save £48m which resulted in 614 staff cuts, although it said the majority left through voluntary severance.
A report to its cabinet which meets on Thursday recommends that given the "budget challenge for 2015/16 and beyond that employees should now be given a further opportunity to consider voluntary severance".
Commenting on next year's savings, Cardiff council leader Phil Bale said: "Obviously the measures we will need to put in place to ensure we can meet the targets will be far-reaching and we can't ignore the fact that they will impact on both staff and services."
It comes a week after schools, courts, job centres and council services were hit as 70,000 public sector workers in Wales joined a one-day strike over pay, pensions and working conditions.
Union leaders claim pay freezes leave low paid workers struggling to cope.
Welsh councils say a pay rise worth 1% to most workers and 4% to the lowest paid is the fairest they can afford.
The UK government has said public sector pay restraint protects jobs, services and the national finances.
Last month, Local Government Minister Lesley Griffiths told councils to be ready for a "range of scenarios" of cuts in support of between 1.5% and 4.5%.
The average council cut this year across Wales has been 3.5%.
A Welsh Local Government Association spokesperson said the position for public services "remains intensely difficult and will worsen".
They added: "In recent years our workforce has been subject to a prolonged pay freeze and every one in local government is playing a part in terms of squeezing budgets to protect frontline services.
"Unfortunately, this is not enough and further announcements on job cuts can be expected as on the basis of current financial projections we can expect the more services to dramatically change in size and scope."