Too many pregnant women smoking, says child mortality report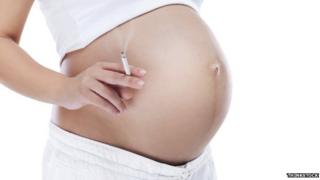 Too many women are still smoking while pregnant, paediatricians have warned.
It comes as the Royal College of Paediatrics and Child Health (RCPCH) unveils its first report on the causes of child mortality in Wales.
Wales has higher rates of pregnant women smoking than other UK nations.
RCPCH also says it is "simply unacceptable" that a child's survival chances are so heavily influenced by social and economic circumstances.
Among 20 recommendations, the report calls for new targets for reducing smoking rates across all stages of pregnancy and early parenthood.
Despite smoking having been a well publicised risk factor for infant deaths and lower birth weights for years, smoking levels before or during pregnancy are still higher in Wales compared to the other UK nations.
'Educate and engage'
Swansea-based consultant paediatrician Dr Chris Bidder, a spokesman for the RCPCH told BBC Wales people in disadvantaged areas were more likely to smoke when pregnant.
He said more could be done in schools to educate children about the dangers as well as working with women smokers through their GP practices and before they become pregnant
"The efforts to educate and engage have not worked as well as they intended to," said Dr Chris Bidder. "Giving up smoking is hard but there are very effective smoking cessation programmes in Wales and we need to ensure that support is offered."
The RCPCH also wants safe sleeping to be promoted, with particular consideration paid to ongoing research into Sudden Infant Death Syndrome (SIDS), which is responsible for 13% of infant deaths in Wales.
For older children, road collisions account for 39% of all external causes of deaths and the report recommends 20mph speed limits in all built-up areas and a graduated driving licence system for young and new motorists, including curfews.
"These are practical things we can do now - 20mph speed limits in built up areas don't mean slower journey times but they do mean fewer accidents," said Dr Bidder.
CHILD MORTALITY FACTFILE
There were 222 registered child deaths in Wales in 2011
Between 2002 and 2011, 61% of deaths were in children under one year of age, 20% in children aged between 12 and 17 years, and 19% in children aged one to 11 years
Although child death rates are largely similar between England and Wales, the mortality rate in children aged between 15 to 19 years is higher, at 33 per 100,000 in Wales compared with 27 per 100,000 in England
Source: Royal College of Paediatrics and Child Health.
The Welsh government said it was committed to reducing avoidable child deaths and the report "helpfully highlights the importance of bridging the gap in order to reduce excess child deaths".
A spokesperson said reducing inequalities lay at the heart of all its policies and pointed to the ambitious goals in its recently launched Wellbeing of Future Generations Bill.
"This report demonstrates the diversity of policy areas impacting on child death rates and shows that all public services have a role to play in reducing child deaths."