Dylan Thomas's love letters to future wife auctioned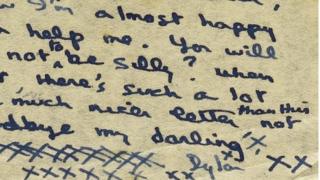 Three unpublished early love letters written by Dylan Thomas to his future wife have been sold to an anonymous buyer for £11,250.
They date from August 1936, a few months after the poet met Caitlin Macnamara.
He was writing from his parents' house in Cwmdonkin Drive, Swansea, to Caitlin who was living in Hampshire.
Of the anguish at their separation, Thomas writes: "I want to lie down and howl like a dog".
The letters, signed by Thomas, had not been recorded before.
"I think we're bound up for always in some lonely funny way...because I can't think of anything happening without us being together," writes Thomas in one of the letters.
"Not that the world wouldn't turn round, and the postman call at seven o'clock..."
He goes on to say: "But I wouldn't want to do anything at all unless you were there loving me, dizzy as me, liking the same things, not being polite and unnatural and horribly controlled and unemotional."
Thomas met Caitlin Macnamara, then 23, in the spring of 1936 when the two were introduced at a London pub by the artist Augustus John.
Macnamara was John's lover and model and she lived with his family in Hampshire.
In the July, John and Macnamara went to stay with the author Richard Hughes in Laugharne and Thomas invited himself along.
'Soaks and silly artists'
It ended with John punching a drunk and jealous Thomas and driving off with Macnamara.
The letters are written in the aftermath of the meeting, with Thomas declaring his love.
"It's wonderful to think that you love me too," writes Thomas.
"When I think of you doing anything, anything at all, I feel so many hundreds of miles and days away from [me] that I want to lie down and howl like a dog at all the cruel, uncharitable things that muddle us up and won't let us be together."
He also promises to drink less and to take better care of himself.
"Why should I stay in London without you, without you among all the soaks and silly artists, just standing drinking and getting drunk and longing for you every single moment."
The second letter recalls their meetings, "four funny times full of drinks and Augustus and castles and quarrels".
A third is written in ragged handwriting and crossed out, on his return from a Friday night at a pub, saying "This is only to tell you that I'm not dead & that I'm writing a letter which you shall have by Monday".
The letters had an auction estimate at Sotheby's of between £10,000 and £15,000.
The centenary of Thomas's birth is being celebrated this year.