Luxury presents given to teachers raise concern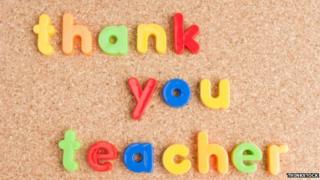 As schools break up for the summer, concern has been raised about the cost of gifts given to teachers from pupils.
In one school in Cardiff, a teacher was given a five star hotel break with a meal and spa treat from his class in which every pupil had contributed £10.
The Association of Teachers and Lecturers (ATL) said present giving had become competitive and commercialised.
And concern has been raised about the pressure on parents to contribute to class-wide gifts.
"It's understandable that children want to show their appreciation of a teacher who has meant a great deal to them but quite often it's the small, personal gifts that really count to the member of staff concerned," said Dr Philip Dixon from the ATL.
"There are creeping costs associated with education, such as uniform and school trips, that we need to monitor carefully.
"We should not be adding to those and no parent should feel under pressure to make a donation," he added.
This term, in Cardiff alone, around 30 five year olds went home from their state school primary with an envelope in their bag containing a printed message asking for a £5 donation to buy vouchers from a well known department store for the teaching assistant.
Another class of children at a different school in the city were invited to each give a minimum donation of £10 for a present for the teacher.
And one teacher revealed how she was given a £50 bottle of champagne and £50 in gift vouchers from individual children.
In Wales, many councils do not have a policy when it comes to teachers' gifts and say it is a matter for the governing bodies.
But Monmouthshire council said: "…we do not expect parents or pupils to give gifts to teachers".
And experienced teachers have also raised concern at the trend for giving luxury gifts to teachers.
David Pedwell, a former head teacher with 40 years' experience in St Mellons, Cardiff, said: "You can't prevent it and all credit to the teacher concerned - but are all parents willing to contribute? Some parents might find it difficult to say no - and where does it stop?"
Parents have raised concern about the pressure from other parents of being asked to give towards a teacher's present.
Claire, the parent of a 10-year-old, said she was concerned about the trend of giving at an already "hugely expensive time of year".
"I think a £5 contribution is enough, if we all put that much into a kitty, that would be £140-£150 and you can get a sizable present," she said.
Psychology lecturer Dr Gabriela Jiga-Boy from Swansea University said: "Resisting peer pressure is hard for everyone.
"First, those who try to resist need to exercise a 'minority influence' which is particularly challenging and lonely.
"Second, resisting might be even harder for a parent because of what the others might see in it: A selfish act to opt-out from contributing to a collective goal of rewarding a crucial actor in a child's life [the teacher].
"They might also need to challenge the need for an extravagant present. After all, many external rewards for our activities actually decrease our internal motivation to perform them well," she added.
Rhys Williams, a former teacher at Lampeter Comprehensive School, said a class contribution might help some children feel less "embarrassed" on the present-giving day - if their contribution was less than the others.
However, he added: "When kids come up to you and say 'you're the best teacher I have ever had', that's far nicer than any gift."