Bone marrow donor found for Cardiff girl Hollie Clark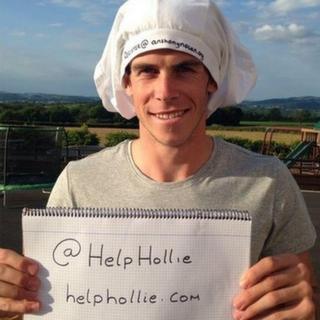 A bone marrow donor has been found for a Cardiff schoolgirl after celebrities joined a "pants on your head" social media campaign.
The likes of international football star Gareth Bale and Wales rugby captain Sam Waburton got behind the drive to help Hollie Clark, 8.
Now her mother says the family is "thrilled" a donor match has been discovered.
Hollie is expected to undergo treatment in Bristol in the near future.
But Laura Clark said they now have a "huge hurdle to climb" before her daughter has the transplant.
"We are so lucky to have a match, but we want to make it clear that the campaign carries on," said Mrs Clark.
She added: "The phones have been non-stop. People are ecstatic".
It was just over three months ago that Hollie was diagnosed with a rare bone marrow syndrome.
It prompted the start of a campaign on Twitter using the @HelpHollie handle with the hashtag #pantsonyourhead.
They called on people to register with the Anthony Nolan Trust as potential donors.
Even though a donor match has been found for Hollie, her mum said they are continuing with their campaign and want to help others in a similar situation.
"We always wanted to increase awareness and help other families in a similar situation. Once Hollie is better, we'll do everything to carry on with this campaign," said Mrs Clark.
The family has not been given any details about the donor and Hollie is now taking medication to prepare her for the operation, which Mrs Clark described as a "very difficult next stage".