Funky Dragon youth assembly for Wales 'facing closure'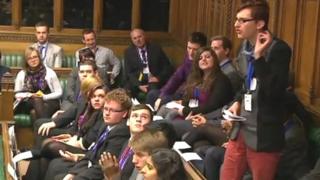 A charity that lets children have their say on Welsh politics has warned it faces closure after losing its funding.
Funky Dragon - the Youth Assembly for Wales - includes youngsters elected from each local council area to discuss issues like health and education.
Children's commissioner Keith Towler said he wanted to know who else would promote youth involvement in politics.
The Welsh government said the charity Children in Wales had been chosen after "a fair and open" application process.
'Independent' voice
Funky Dragon has received its core funding from the Welsh government since it was created in 2002.
In the last financial year, it received £418,000 from the Welsh government, as well as EU funding of £326,000 and smaller amounts from other sources.
The charity was told this year it would have to apply for funding through the Children and Families Delivery Grant but found out last week it was unsuccessful.
Chief executive Darren Bird said the charity now had little time to find alternative finance before its funding ran out in October.
"The voice of children will stop," he said.
"Our representation in the UK youth parliament, with the British Youth Council, with the European Youth Forum will all stop.
"We will be the only country in Europe not to have an independent youth forum."
The Children's Commissioner for Wales, Keith Towler, said he would ask the Welsh government how it would meet its obligations under the UN Convention on the Rights of the Child and its own legislation on children's rights.
"There remains some unanswered questions about these grants, including one in relation to a national and visible mechanism for supporting the participation of young people in decision making at a national level," said the commissioner.
"I have asked for confirmation of who they've charged with this work."
'Opportunity'
Joel Price, 18, who represents Caerphilly on the youth assembly, said Funky Dragon was the only independent organisation of its kind, run by and for children and young people.
"This organisation leads the way in the promotion of youth voices and gives the opportunity for children and young people who don't have access to the ballot box to hold ministers, AMs and MPs to account," he said.
A Welsh government spokesperson said: "Ensuring that children have an active voice and can participate in decisions that affect them is a key theme in the new Children and Families Delivery Grant and will be a key feature of the work that Children in Wales, who were successful with their application, will undertake.
"Looking forward, we are confident that these key services for children and young people in Wales will continue."