Sylvia Ann Hewlett on Welsh roots, class and 'gravitas'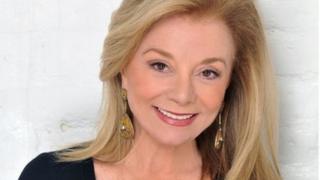 You might have the brains, work hard and be good at what you do, but you could still stumble on the career ladder if you do not have what one Welsh-born economist, author and consultant calls "executive presence".
Sylvia Ann Hewlett heads up the US-based think-tank Center for Talent Innovation but has been back in her native Britain spreading her message.
As one of six girls, she grew up in Cwmbran and Croesyceiliog in the 1950s, and went to school in Pontypool but had an early ambition to study at Oxbridge.
"As a girl it wasn't clear what you could do in the valleys, it was a pretty bleak place," Hewlett told BBC Wales.
"My dad was a working class bloke but very ambitious for his daughters and when I was 13 he took me by bus to see the ancient universities - he thought it would inspire me.
"I came from a home which didn't have a car, TV or refrigerator but he had dreams for us. I saw that as my goal and I worked very hard but my first interview at Oxford was a disaster.
"We went to the winter sales and my mum picked out this suit which had a fox collar - not just a fur it was actually a fox, the beady eyes, tail and everything.
"I had a very thick working class accent and so turning up and looking a bit like the Queen Mother was bewildering for the interview panel and I did not get in."
Hewlett eventually earned a place at Cambridge with a more sober suit.
'Hang onto our identity'
But she still felt her background keenly.
"I spent two years listening to BBC World Service trying to get those modulated tones down and to fix my grammar," she said.
"One reason I went to the US was because I wanted to get away from the class distinctions which tripped me up so much as a young person and which are still there."
She has since advised, lectured and written on issues ranging from challenges facing women and minorities to the "work-life balance".
Her latest book is exploring those characteristics which could help or hinder workers in their careers.
The research for it involved surveying 4,000 business leaders and talking with 40 focus groups.
"Executive presence" can be boiled down to a combination of how you act, how you speak - and how you look, she says.
Gravitas - this is the core attribute and includes showing confidence, "grace under fire" and acting decisively
Communication - this is also important, with great speaking skills and the ability to command a room
Appearance - "a small part of the equation" but not having good grooming can hold people back. Unkempt clothing detracts hugely from your executive presence
Hewlett told BBC Radio Wales' Wales At Work: "There are skills you can learn that allow you to telegraph that you have what it takes, despite your background.
"It gives voice to your ambition. How do you crack gravitas? Which is communicating to your colleagues and to your boss that you have intellectual clout.
"It's about communication. I'm glad I fixed my grammar but should I have lost that regional accent? Perhaps not. I think there's tension between authenticity and conformity. We need the skills but we need to hang onto our identity.
"But there are skills we can all learn. What's valued today is being concise, compelling and making eye contact."
Executive presence blunders:
Unkempt clothing - 83% say it detracts from a woman's executive presence and 76% say the same for men
Too-tight or provocative clothing for women
Sounding uneducated is also a "tripwire" for more than half of those surveyed
Constant phone and device checking
Over-reliance on props and notes
Source: Sylvia Ann Hewlett - Executive Presence: The Missing Link Between Merit and Success