400 jobs to go at Tata steelworks in Port Talbot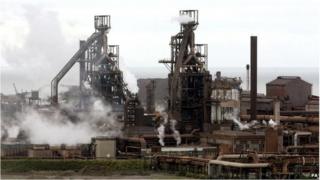 Around 400 jobs are to go at the Tata steelmaking plant in Port Talbot, the company has announced.
Chief executive Karl Koehler said the changes were vital if the company was to remain competitive.
He pointed to the UK's high business rates and "uncompetitive" energy costs as factors in the decision.
In 2012, 600 jobs went from Tata sites in Wales. It still has 7,000 staff with just over half working at Port Talbot.
The Welsh government said the news would be of concern to Tata staff, but was encouraged that the company planned to make the redundancies through voluntary means.
A consultation process lasting at least 45 days will begin shortly.
'Competitive future'
The company said in statement the job losses would reduce costs and enable it to compete in an era of lower market demand.
Mr Koehler said: "Steel demand and prices are likely to be under pressure for some years. Our business rates in the UK are much higher than other EU countries' and our UK energy costs will remain uncompetitive until new mitigation measures come into effect.
"These proposed changes then are vital if we are to build a competitive future for our strip products business in the UK."
The company spends £60m on electricity in Wales alone, and pays about 40% more for the electricity than competitors in continental Europe.
The government introduced measures in the last budget to reduce energy costs for heavy industries but they do not come into force until 2016.
Mr Koehler said they would do everything possible to support staff "through this unsettling time".
He added the company had invested over £250m in the past two years in state-of-the-art technology and were making further investments in its hot strip mill in Port Talbot and at a site in Llanwern in Newport.
UK Business Secretary Vince Cable said: "This is understandably a difficult time for the workforce at Tata Steel in south Wales as the company tries to weather challenging market conditions.
"I have been in close contact with the chief executive at Tata Steel and understand they will offer voluntary redundancy packages and cross match people to other parts of the business to try and avoid compulsory job losses."
Councillor Peter Rees, deputy leader of Neath Port Talbot council, said: "Whilst we appreciate that the steel industry is under pressure and accept Tata's need to remain competitive, this announcement is a bitter blow for the local community and south Wales."
He said the council would help workers find alternative employment and help those considering setting up their own business.
Tata Steel in Wales
Tata employs around 7,000 people across Wales.
A total of 3,800 people work at Port Talbot, meaning just over 10% of staff there will lose their jobs.
In Newport, 600 are employed at Llanwern and 350 at the Orb Electrical Steelworks.
Trostre in Llanelli employs 750, while the site at Shotton in Flintshire has 850 working there.
'Concerns'
Roy Rickhuss, chair of the UK trade unions' steel committee, said they were very concerned at the news and would do "all we can to support those affected by the announcement".
He added: "We recognise the company has been dealing with a long-term downturn in European steel markets for more than five years.
"However we have also expressed our own concerns about possible under-manning within strip products and in Port Talbot in particular.
"Therefore, it is vital that this is not just an exercise to just reduce costs by cutting jobs but takes a considered and objective view as to the numbers required to run and maintain the plant to make steel safely and productively."
A Welsh government spokesperson said: "Tata has demonstrated its commitment to Wales by investing nearly £400m in the strip business over the past two years. Despite this investment it is clear that the industry is still being adversely affected by high energy costs in the UK.
"We continue to work with Tata to ensure we create and sustain a thriving steel industry in Wales but repeat our calls for the UK government to implement measures to reduce the burden faced by energy intensive companies in Wales."
Welsh Secretary David Jones said: "It is very disappointing to hear that Tata Steel has had to make the decision to reduce its operational workforce at its Port Talbot site and my immediate concerns are with those employees and their families who may be potentially affected by redundancies."
In a joint statement Aberavon Labour MP Hywel Francis MP and David Rees AM said: "We were assured that the usual process of consultation will be undertaken and key issues of long term sustainability of the plant and safety will be paramount."
Liberal Democrat AM Peter Black called the announcement sad news for the workers.
"The Welsh government needs to act quickly so those workers who are facing redundancy will know what options are available to them," he said.
Plaid Cymru economy spokesman Rhun ap Iorwerth said it was concerning, adding: " In difficult global economic circumstances it is important that Welsh government is able to listen and respond to companies' needs and demands, such as through business rates support."
Have you been affected by the redundancies? Contact us on newsonline.wales@bbc.co.uk or @BBCWalesNews Please can you include your contact details.