Storms reveal hunter-gatherer footprints and animal remains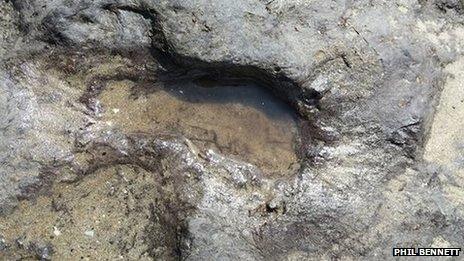 More evidence of prehistoric life in west Wales has been discovered following the severe storms earlier in the year.
Ancient human and animals footprints have been found at Newgale and the remains of extinct cattle at Whitesands in Pembrokeshire.
The finds follow earlier discoveries of forests and other remains along the south and west Wales coastline.
The footprints are believed to date from around 10,000 years ago.
The discoveries were made possible after violent tides stripped large areas of sand away from beaches.
The remains of an aurochs, an extinct breed of cattle, was also found.
Pembrokeshire Coast National Park Authority's culture and heritage manager Phil Bennett said: "The footprints in the exposed peat at Newgale, which are most probably from the Mesolithic period around 10,000 years ago, suggest the humans may have been tracking a large hoofed animal such as an auroch.
"The discovery of the aurochs remains at nearby Whitesands would support this theory and the horns give you an idea of just how large these creatures must have been."
However Mr Bennett said there were two sides to the story, as the weather had also led to the loss of other resources.
The aurochs remains will be conserved, with the aim of putting it on display at Oriel y Parc Gallery in St Davids.
Related Internet Links
The BBC is not responsible for the content of external sites.