Slavery reports in Wales 'tip of iceberg' says expert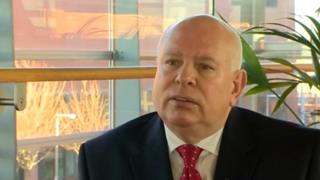 Reported cases of slavery in Wales are the "tip of the iceberg" a government expert has said.
The Welsh government's anti-slavery co-ordinator Stephen Chapman told BBC Wales they just "don't know how big that iceberg is".
His comments come after four men arrested on slavery and kidnap charges were released on bail.
In 2012, there were 34 slavery cases reported in Wales but this rose to 54 a year later, Mr Chapman said.
"These crimes are taking place behind closed doors - and who knows what goes on behind closed doors," he said.
"What we want to do is shine a light on this offence, make the public aware, get them to report it."
Appealed to community
He went on: "It is a very, very hidden crime, people aren't reporting it.
"We say it's hidden in clear sight, it's not until you hear of cases... that you realise slavery is going on and yes it is a sad indictment that here we are in 2014 and here we are dealing with this sort of issue."
Mr Chapman appealed to communities to reported suspected cases of slavery.
He said: "We know it seems to be the tip of the iceberg but we don't know how big that iceberg is.
"Our aim is to make Wales hostile to slavery and also to provide the best possible support to survivors."