Domestic abuse bill 'disappointment' from campaigners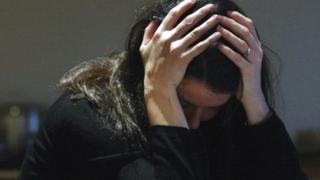 Campaigners have voiced concern that new legislation to tackle domestic abuse does not focus enough on female victims of violence.
The Welsh government is expected to publish a bill this week to improve services for victims.
The criminal law is not devolved but Welsh ministers say they want to deal with preventing violence, and the support available for people affected.
But campaigners have raised concerns about the name of the forthcoming bill.
Part of the bill's title has been changed from "violence against women" to "gender-based violence" prompting disappointment the name does not address the fact that women are disproportionately victims.
Mwenya Chimba, chair of the Wales Violence Against Women Action Group, said: "There are concerns there that if the bill is gender neutral then it wouldn't tackle the issues that the bill was supposed to tackle because nothing would have changed.
"It's not that there is no recognition that men for instance experience certain forms of violence but... to get appropriate services, you have to look at the extent of violence for a particular group.
"So gender-neutral legislation is quite a disappointment for the group."
The action group has been calling for compulsory initiatives in schools to prevent violence against women.
It also wants guaranteed access to services for all women in Wales.
The Gender-Based Violence, Domestic Abuse and Sexual Violence (Wales) Bill goes before the assembly this week.
'Empower people'
On Monday the Welsh government will launch an advertising campaign. It is asking people to "take a stand" by posting photos of themselves on social media linking arms.
More information will be made available on how people can respond if they suspect someone may be a victim or a perpetrator.
Local Government Minister Lesley Griffiths said: "Colleagues, friends, neighbours and even family members may be afraid of acting on their suspicions of abuse for fear they are mistaken, interfering or even making the victim's situation worse.
"With this campaign, we aim to empower people with information to act in the right way if they suspect abuse may be taking place.
"We want people to openly declare they are united against these types of abuse. So we are appealing to groups of friends, neighbours, office, shop or factory workers, and social groups from book clubs to sports teams to publicly make a stand and begin to help us break this taboo."
The Welsh government said funding of £4m was available to deliver services for victims and to provide education on healthy relationships in schools.
Responding to concerns about the bill being gender neutral, a Welsh government spokesman said: "We recognise that women suffer disproportionately from these forms of abuse.
"The aim of our bill is to end all forms of domestic abuse and sexual violence in Wales and look forward to publishing the details of how we aim to achieve this. The contents of the bill are of paramount importance, not the title."