Syphilis warning to dating site users as Wales cases rise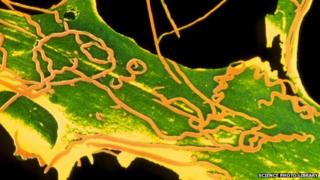 People who use dating websites and apps are contributing to the spread of the sexually transmitted disease syphilis, experts say.
Public Health Wales (PHW) said the condition is "spreading particularly quickly" among people who use social media tools to meet for casual sex.
It said 55 people in south Wales have been treated for the disease in 2014, while 39 cases were reported in north Wales since mid 2013.
Syphilis is treated with antibiotics.
Dr Gwen Lowe, consultant in communicable disease control for PHW, said: "We are seeing an increase in cases of syphilis across Wales, the majority being in men who have sex with men.
"However, we also have cases in people who are bisexual and heterosexual and many of these have become infected after meeting people on dating websites and apps."
She said people who think they may have been put at risk should get tested.
"We are also reminding everyone that it's a good idea to use a condom, not only to avoid syphilis but to avoid the risk of other sexually transmitted infections too," Dr Lowe added.
If left untreated, the STI can cause mental deterioration, blindness, deafness and lead to a range of issues with the central nervous system.
It is not just adults having unprotected sex who fall victim to the infection.
It can be transferred to unborn babies, causing miscarriages, premature births and stillbirths.