Abandoned horses 'crisis' warning by RSPCA as numbers soar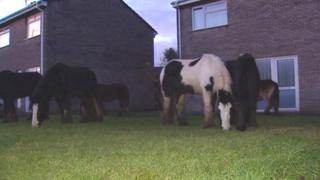 Horses are being abandoned in record numbers in Wales in what the RSPCA has called a "crisis".
The charity said there had been a six-fold increase in the number of horses rescued in Wales over five years to 271, nearly half of them in Swansea.
Falling prices and rising feed and care costs have been blamed.
RSPCA chief inspector Cathy Hyde said the main concern was large groups of horses abandoned without food or water.
A campaign has been launched to find homes for the rescued animals.
'Horrendous'
The RSPCA said the increase in cases of abandonment and neglect over five years amounted to what it called a "horse crisis".
The number of horses rescued by RSPCA inspectors in Wales increased six-fold from 45 in 2009 to 271 in 2013
Swansea saw the biggest jump from nine to 125 - a rise of nearly 1,300% and nearly half the total for Wales
The number of calls reporting horse welfare concerns in Wales rose by 60% to more than 2,300 in 2013
The most calls in 2013 came from Carmarthenshire
900 horses are in RSPCA care across England and Wales
For every horse in an RSPCA re-homing centre the charity says seven are waiting for a place
Ms Hyde, who leads a specialist RSPCA team dealing with horse inquiries, said they now seemed to be neglected more than any other animal.
"Over the past five years there has been a marked and very worrying increase in equine neglect and abuse. This is witnessed on a daily basis by frontline staff," she said.
"I remember a major issue in Wales in 2013, where we dealt with a group of 300 sick and neglected horses and ponies," she said, referring to an incident in the Vale of Glamorgan.
"It was horrendous, something that I will not easily forget and I fear we will have to deal with something similar again in the future."
Road to recovery
Secret was rescued when the RSPCA found a herd of horses in what they described as "horrific" conditions in a muddy field in Whitland, Carmarthenshire, in early 2013.
Inspectors found one horse collapsed on the ground tangled in a rug and a pregnant mare lying dead nearby under some covers.
The charity said the field had very little grazing and was littered with mud, rocks and pieces of metal.
The ponies were underfed with many badly affected by worms and the effects of standing out in the rain, it added.
"Secret was part of a large case of emaciated ponies and she was heavily in foal," said groom Hanna Clifford, who treated her at a specialist RSPCA equine centre near Shrewsbury.
"She was not very well handled and was terrified of humans. With a lot of time and patience Secret started to gain our trust, and gave birth to a beautiful filly who we named Faith."
New laws to tackle the growing problem of illegal fly-grazing - horses being left by their owners on other people's land to feed themselves - were announced by the Welsh government in October 2013.
It followed a series of incidents in which large herds of horses had apparently been abandoned on open land, with Blaenau Gwent in south Wales one of the worst affected areas.
The RSPCA has launched a Homes for Horses campaign to find new owners for 900 horses and ponies rescued across England and Wales.