Chris Evans-Thomas wants NHS to pay back funds raised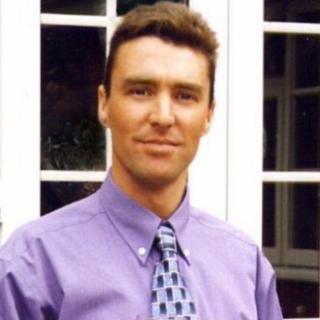 A mother who helped raise hundreds of thousands of pounds for cancer services is asking the NHS to pay it back.
Chris Evans-Thomas lost her son Adam to leukaemia in 2004 when he was 35.
His dying wish was to improve facilities at Withybush hospital in Haverfordwest, Pembrokeshire, but 10 years on his legacy has not been spent.
Hywel Dda health board said it was still fully committed to a new cancer care day unit and refurbishing the main cancer ward.
Mr Evans-Thomas achieved remarkable things in his lifetime helping get the government to pay the costs of DNA tests for bone marrow donors, and persuading 3,000 more people to sign up to the donor register.
But as his illness progressed he wanted to give something back to the hospitals that had helped him.
He began raising money through the Adam's Bucketful of Hope appeal to refurbish the cancer ward at Withybush and build a new cancer day unit.
When he died his mother took on that legacy.
Through the high-profile nature of Mr Evans-Thomas' campaign his mother helped raise £649,776 in the NHS pot for cancer services in Pembrokeshire.
She said she had repeatedly been given dates for when his wish would be fulfilled but it never has, and now she wants the money back.
'We've been ignored'
Her son would be "very, very saddened" by the length of time it was taking for anything to happen, she said.
"We're at a situation now where... we can pull together with a little bit more fundraising £1m, and we've been ignored and we just don't get any common sense at all," she said.
"We would like this money back into Pembrokeshire and there are plenty of people here who can take it over, look after it and then decide what to do with it if they're not going to put in a CDU (cancer day unit)."
Ms Evans-Thomas, who has received an MBE for her fundraising, said she would not give up until she had "got something to show, to have some meaning why Adam had to go".
A cancer support charity in Pembrokeshire showed BBC Wales letters from Hywel Dda health board citing "staffing and recruitment" problems at Withybush.
It is worried this may mean Mr Evans-Thomas' legacy never gets built.
Lyn Neville, of Pembrokeshire Cancer Support, said: "We're just going round and round in circles and it doesn't get spent.
"Every so often they ringfence the money, and it's generally different amounts that are ringfenced, and it isn't being spent."
The health board has no plans to hand the money back, and under charity law experts said it would be hard to challenge that.
Giselle Davies, of Geldards law firm, said: "The issue is unless you attach conditions to your donation that require it to be paid back if it's not used for the particular purpose, then the charity that receives it can spend it as they choose to do so on their charitable objects.
"There's no provision for a charity to return the funds to the donor except in very limited circumstances."
Frustrated at the lack of progress from the NHS, Ms Evans-Thomas has set up her own project for cancer patients in Pembrokeshire.
But she said she would not give up her mission to see out her son's dying wish.
Hywel Dda health board said £550,000 had been committed to the refurbishment of the main cancer ward at Withybush and to build a cancer day unit, in conjunction with Bucket Full of Hope.
The health board said the new unit would "realise the time, effort and investment that has been made by those fundraising in the county".
"The capital build is only part of the challenge as all service/units that we provide require a review of staffing to ensure that they are sustainable in the long term," it said in a statement.
"We continue to work hard with colleagues, partner organisations and stakeholders, including our charitable fundraisers, to ensure we provide the best care possible for cancer patients and will continue to work closely with them on the development of the new chemotherapy day unit."