Funding cut threatens Bobby Van home security service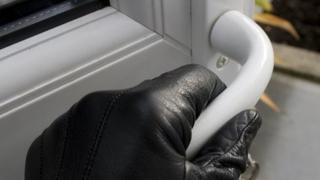 A free home security service for people living in the Dyfed-Powys Police force area is under threat.
The force said only 10% of installations carried out by the Bobby Van scheme over the last 12 months followed a crime taking place.
It added it could no longer commit to funding an independent charitable trust which runs the scheme.
Councillor Jim Jones, Carmarthenshire council's public protection executive board member said it was disappointing.
A spokesman for Dyfed-Powys Police said the force was fully committed to providing a service that provides safety and security for victims of crime and domestic abuse.
He added: "It is run by an independent charitable trust, the stated aims of which are the prevention and response to incidents of crime (including domestic abuse).
"In recent years the only income derived by the trust has been provided by DPP.
"Given that 90% of installations were not related to victims of crime, or defined crime prevention activity, DPP is unable to commit to the previous level of funding to the trust."
Mr Jones said he understood the problems Dyfed-Powys Police faced with budget cuts, but he added: "This scheme has been invaluable in promoting security to some of our most vulnerable people, which is vital in the fight against property crime," he said.