Solar parks: Large scale schemes 'to double' in Wales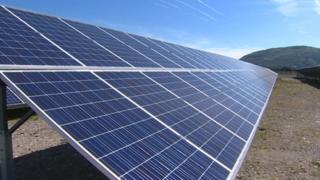 The number of large scale solar parks in Wales is set to double, with rural west Wales increasingly being targeted.
Eighteen schemes greater than 5 megawatt (MW) are already in operation, with 34 projects in planning or being built, according to website Solarbuzz.
Council officers say greenfield sites are preferred by developers.
The Welsh government is consulting on whether to take responsibility for larger schemes away from local councils in pursuit of green energy targets.
The growth of solar parks has been fuelled by UK government subsidies, although these are being phased out by 2015.
Awaiting approval
Eifion Bowen, head of planning at Carmarthenshire council, said developers have been particularly keen on greenfield sites for reasons of scale and to keep costs down.
He said: "You're talking about 150 acres at least and there aren't that many brownfield sites that fall into that category."
Carmarthenshire has seven operational solar sites, with two applications pending.
In Pembrokeshire there are three big solar parks, with 12 more being developed or awaiting approval.
Three of these are being built after developers successfully appealed against the council's initial refusals.
On Anglesey, a newly completed 15MW site is now generating energy for the National Grid, while a huge 45MW project will be considered for approval by Flintshire councillors in July.
The Compton Group wants to cover more than 250 acres (101 hectares) behind the Deeside Industrial Estate with up to 180,000 solar panels on land where potatoes and leeks are grown commercially.
Its plans state the land would be returned for farming use after 20-25 years.
But farmer Stuart Banks, who currently leases the land, claims there are other sites which would be better suited to solar parks, including land he owns next to Airbus in Broughton.
"I've got land which isn't as productive as this - it's more cereal intensive, more of a heavy silt, and it would lend itself better to solar than agriculture," he said.
However, Wales' newest solar park has opened on a brownfield site - the former BP petrochemicals plant at Baglan, Port Talbot.
Neil Williams of developers St Modwen said they were happy to set up their £15m, 5MW solar park near a new university campus and a housing development despite the extra expense involved in preparing the land.
"This site sits within an existing community - there's already electrical connections into the network and also we have a power station within the site," he said.
"There is a lot more work to do to get a brownfield site ready for development but we have a long period of experience of dealing with brownfield sites and this was no different."
Targets
With ageing power stations, the need for a secure source of energy and climate change, the argument for all kinds of renewable energy is clear, say politicians in Cardiff Bay and Westminster.
All energy generation smaller than 50MW comes under the authority of the Welsh government, while bigger projects - like offshore wind farms, gas and nuclear power stations - are decided at Westminster.
Both the UK and Welsh governments have renewable energy targets, and both are keen to hit those targets.
Government officials and ministers in Cardiff Bay are consulting on whether to decide on energy projects between 15 and 50MW themselves on grounds of national importance.