Armed forces veterans get £100,000 health care boost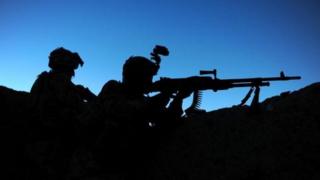 An extra £100,000 for specialist NHS services for armed forces veterans has been promised by the Welsh government.
Veterans' NHS Wales, which already receives £485,000 in funding, will use the extra money to treat post-traumatic stress disorder (PTSD).
Some veterans have to wait six months for treatment in one health area.
Health Minister Mark Drakeford said: "We recognise the immense contribution veterans and current members of the Armed Forces make to our country."
"This is why we are continuing to invest in the Veterans' NHS Wales service, which is unique in the UK, offering specialist care and support for their very specific needs.
"We anticipate demand from veterans will increase in the coming years from veterans who have experienced recent conflict and due to redundancies in the military."
The BBC's Sunday Politics Wales found that waiting times for Veterans NHS Wales services ranged from two to three weeks in the Aneurin Bevan health board area to around 26 weeks in Cardiff and the Vale.
Conservative Shadow Health Minister Darren Millar, chair of the cross-party group on the armed forces, said there should be a "timely service" for PTSD in particular to prevent suffering and possible suicides.