Wales GCSEs 'credibility' doubts of independent schools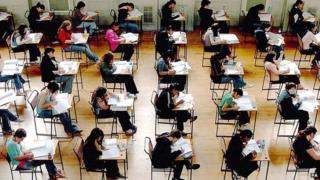 Some fee-paying schools in Wales say they will follow the new GCSE courses for England rather than those set in Wales, the BBC has learnt.
Welsh Independent Schools Council (Wisc) said it believed the Wales-specific courses starting next year "lack credibility and portability".
Wales is setting its own English, Welsh and maths courses as England scraps coursework for most subjects.
The Welsh government said its GCSEs would be credible and rigorous.
The changes to the examination systems begin being rolled out in September, with the first of the new qualifications being awarded in 2015.
It follows a row over the regrading of GCSEs in Wales in 2012 after exam regulator Ofqual ordered boards in England, Wales and Northern Ireland to raise the boundary for a C grade pass, resulting in lower grades for many students.
Wisc represents most of the independent schools in Wales with 43 members, 21 of those being independent mainstream secondary schools.
At the moment, two-thirds of these secondary schools sit the Welsh exams.
But the majority say they will now follow the England-based qualifications. Eighteen responded when asked about their plans, and two-thirds said they would be switching away from the Welsh GCSE.
EXAM CHANGES
In Wales, there will be new courses in English, Welsh and maths broadly based on the current GCSE structures.
In England, a new grading system will use numbers instead of letters, and coursework is being scrapped for most subjects.
The changes will be in stages, starting with pupils due to take GCSE exams in 2017 - those turning 13 in the current academic year.
English and maths will be the first subjects to be affected.
'High risk'
Wisc chair Kenneth Underhill told BBC Wales he felt the changes in Wales were being brought in as a "fairly knee-jerk reaction".
"There are a number of us heads of independent schools who are very patriotic Welshmen," he said.
"But in the end our responsibility is to do the best for our students. And so it's not about opting for Wales or England, it's a question of what's the best qualification for our pupils."
Wisc says it represents "the vast majority of pupils in Welsh independent schools" with members including establishments like Christ College in Brecon, Powys, Howell's School in Cardiff, St David's College in Llandudno, Conwy and Atlantic College at St Donats in the Vale of Glamorgan.
But it is not just the fee-paying schools with an eye on what is happening in England.
BBC Wales has also learnt that a state secondary school in Bangor will put its pupils forward for both Wales and England versions of the English Language GCSE.
David Healey, deputy head of Ysgol Friars, told BBC Wales they were considering the move because the Welsh qualification carried a "high risk" of not being treated equally.
However, a Welsh government spokesperson said it was confident the Wales-only qualifications would be "well respected and demonstrably robust" and were supported by universities in Wales and in England.
"We are determined to ensure that our young people have credible, rigorous and valued qualifications that can act as a passport to future success and that measure the skills and knowledge needed by employers and higher education," said the spokesperson.
"We are confident the steps we have taken are the right ones for our learners."