Tributes paid to former police chief Sir Philip Myers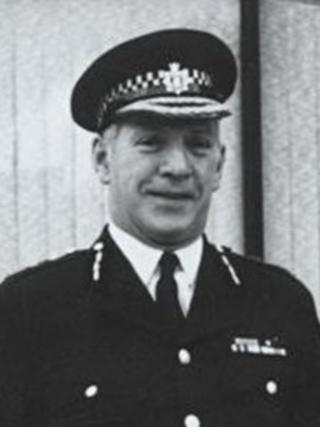 Tributes have been paid following the death of north Wales' first chief constable who led the force when it was set up in 1974.
Sir Philip Myers served in the role with distinction to earn a place in policing history, said north Wales crime commissioner Winston Roddick.
Chief Constable Mark Polin said Sir Philip had laid the force's strong foundations as a community service.
The force marked 40 years in April.
Mr Polin said Sir Philip was held in the highest regard, not just locally but later as a very respected part of Her Majesty's Inspectorate of Constabulary for England and Wales (HMIC).
"His knowledge and wisdom as both a chief constable and inspector of constabulary have contributed to several forces and communities throughout the UK.
"It is however here in north Wales, from where he originated and lived, where he will be missed the most."
Force's four decades
North Wales Police was officially established on 1 April 1974 with the merger of several smaller forces covering the region.
The earliest was Denbighshire Constabulary which was established in 1849.
Mr Polin said: "This year is the Force's 40th anniversary and although Sir Philip was sadly unable to join in the celebrations because of ill health, he was very much in our thoughts.
"His wife, Lady Hazel Myers, played a significant part in an event for retired officers, many of whom had served with Sir Philip, and I was also extremely pleased to welcome her to our open day.
"On both occasions there was much reminiscing."