Max Boyce recovering after a quadruple heart bypass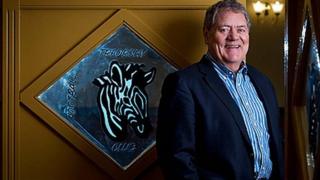 Veteran entertainer Max Boyce is recovering after undergoing a quadruple heart bypass.
Boyce, 70, from Glynneath, near Swansea, was diagnosed with heart problems and had immediate surgery at a private hospital in Cardiff.
He has cancelled his 13-date autumn tour while he recovers.
Boyce's manager Stuart Littlewood said: "It is a fairly routine operation and he now been released from hospital and dealing with it in good humour."
He added: "His wife is being Florence Nightingale and I expect he will be back in action in the spring of next year."
Boyce rose to fame in the 1970s with his songs about Wales and the country's love for rugby.
'Not feeling himself'
He has sold more than two million albums worldwide and the BBC celebrated his recent 70th birthday with an hour-long tribute show.
His wife Jean said: "It's all been a bit of a shock really.
"Max has not been feeling himself for a few months, he wasn't in any pain but was clearly not well and when we took him to the doctor it all happened very quickly from there really.
"He's had a quadruple bypass, which sounds quite scary but he's already feeling a lot better and we're just taking it day by day."