South Wales mining communities 'still feeling' job cuts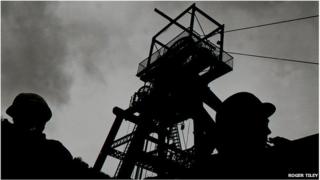 Former coal mining communities across south Wales are still blighted by poverty and unemployment following pit closures, a new report claims.
The Sheffield Hallam University study found a "disturbing picture" of areas hit by the 1984 miners' strike.
The research for the Coalfields Regeneration Trust says more support in those areas is needed.
Researchers said the decline in the coal industry is still visible in the jobs market, benefit claims and health.
More than 25,000 Welsh mineworkers lost their jobs in the decade-long programme of pit closures following the miners' strike.
Today, just 1,200 work in the industry.
However, the coalfield communities in Wales still account for a quarter of the entire Welsh population.
According to the study, it had left those areas in Wales with the lowest "job density" of all 16 coalfield communities across England, Wales and Scotland.
Outside of Wales, researchers found there were 50 jobs for every 100 residents of working age in the coalfield areas studied.
In south Wales, it is just 41 for every 100 residents.
Health and wealth
Only half the job losses following the south Wales pit closures have been replaced, adding to a "substantial pre-existing employment problem", the study found.
Prof Steve Fothergill, who led the research, said: "The statistics demonstrate that there is an on-going need for economic regeneration in the coalfields and that in the meantime coalfield communities remain under acute stress.
"Indeed, the welfare reforms that are currently underway - and still have some way to run - are hitting the coalfields disproportionately hard.
"On balance, the evidence provides a compelling case that most of the coalfield communities of England, Scotland and Wales require support."
The problems facing the coalfield communities in the south Wales valleys was further highlighted when the study examined health issues in the areas.
The report authors found that those claiming Disability Living Allowance stood at 10.4% - almost twice the British average of 5.4%.
The South Wales area also topped the list of coalfield communities reporting bad health, with 9.8% saying their health was bad or very bad. The GB average is 5.6% and the average for south east England is 4.3%.
"The miners' strike of 1984/5 may now be receding into history but the job losses that followed in its wake are still part of the everyday economic reality of most mining communities," added Prof Fothergill