BBC HQ Cardiff Bay move claims astonishing, says Eluned Parrott AM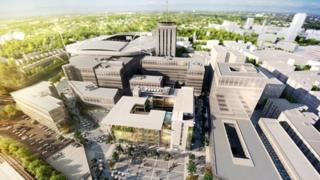 The auditor general is being called on to investigate claims £10m was spent on improving roads to Cardiff Bay on the understanding the BBC would move there.
South Wales Central AM Eluned Parrott said she had written to Huw Vaughan Thomas asking him to intervene.
Former First Minister Rhodri Morgan has accused the BBC of a "breach of faith" following a decision to relocate its headquarters to Cardiff city centre.
A BBC Cymru Wales spokesman has said Mr Morgan is mistaken.
The auditor general's office said it had not yet received Ms Parrott's letter.
But it said it would be "considering the issues" and would look at the "extent to which this matter warrants further audit scrutiny".
It was announced last week that BBC Wales will move its HQ from Llandaff to a purpose-built building in Central Square in Cardiff.
But Mr Morgan has since claimed the Welsh government agreed to invest £10m in new roads before building work on BBC Wales' Roath Lock drama village began.
He said the investment was agreed in a discussion with the former BBC Wales executive Nigel Walker.
Following that conversation, Mr Morgan said he understood that at some point in the future BBC Wales would relocate its headquarters to the Roath Lock site, but admits he made no record of the conversation.
Mr Walker was the project director for the drama village development at the time and has since left the corporation.
'Absolutely astonishing'
Liberal Democrat AM Eluned Parrott said Mr Morgan's claims were "absolutely astonishing".
"If what Rhodri Morgan says is true, then the Welsh Labour government has spent £10m on the basis of a verbal agreement that was not even adhered to," she added.
"I believe the auditor general needs to be looking at this case as a matter of urgency which is why I have written to him today.
"The Welsh Labour government needs to explain step by step how the decision to spend this large amount of money was taken. After all, a responsible government doesn't just spend millions of pounds on the basis of a chat."
The auditor general's office said it would be "considering the issues that have been raised in relation to previous Welsh government investment in improved road access to Roath Basin".
It said it would also look at the "extent to which this matter warrants further audit scrutiny".
A spokesman for BBC Cymru Wales said Mr Morgan was mistaken, insisting no agreement had been made between Mr Walker and Mr Morgan regarding the relocation.
"Our decision to relocate our HQ in Wales followed years of careful analysis by a wide range of staff across the BBC, and an open competitive tender process that included more than a dozen potential locations across Cardiff," said the spokesman.
Speaking at his monthly press conference on Monday, First Minister Carwyn Jones said there was no agreement as far as he understood it.
"Although we welcome the investment being made by BBC Wales, I think it's fair to say our preference would have been the bay," he added.