Gurkha soldier accused of killing couple in A40 crash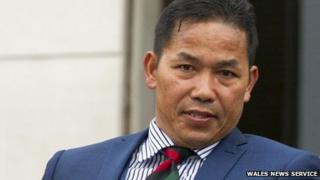 A Gurkha soldier killed an elderly couple after his car clipped their vehicle when he suffered a sneezing fit as he was overtaking, Newport Crown Court has heard.
Sergeant Major Harry Gurung struck the back of David and Mary Marshall's car which hit a tree on the A40 between Raglan and Abergavenny last July.
Mr Marshall died at the scene. His wife died four days later.
Mr Gurung, 45, from Brecon in Powys, denies death by dangerous driving.
Mr Marshall, a retired RAF flight sergeant, and his wife from Llangattock in Powys were returning home from a summer church barbeque.
The court heard how Mr Gurung, who now works for the Ministry of Defence, blamed a sneezing fit and stomach cramps for causing him to hit the rear of the couple's car, sending it into a fatal spin, as he was driving to his barracks.
The solder, who was concussed in the accident, told police: "The road was relatively quiet, I stayed behind their vehicle before deciding to overtake.
"I put my right indicator on and as I overtook I then began sneezing in rapid succession.
'Conundrum'
"I was trying to keep my eyes on the road and I felt a muscle cramp in my stomach.
"I kept my right hand on the steering wheel and put my left hand to my stomach.
"I was trying all I could to control my vehicle. That was the last memory I have, it all happened so quickly."
The cars collided as they travelled in the same director on the westbound dual carriageway of the A40 on 20 July, 2013.
Prosecutor Huw Evans said it was a "conundrum" why the accident happened on a long, straight stretch of road in good driving conditions with perfect visibility.
Computer analysis
"Any reasonable or competent driver in that situation would have indicated and overtaken long before," he said.
"It's a result of the fact that he didn't that Mr and Mrs Marshall are now dead."
The court heard analysis of the onboard computer in the defendant's VW Golf showed he was travelling at speeds of between 69 to 78 mph - at an average of 74mph - when the collision happened.
Mr Gurung denies two charges of causing death by dangerous driving and two alternative charges of causing death by careless driving.
The trial continues.