Estyn: Welsh pupils behind rest of UK in English lessons
Pupils in Wales are being taught how to write stories but not how to fill out application forms, inspectors found.
A report by Estyn found pupils continue to lag behind the rest of the UK in English lessons despite improvements.
There were concerns about the standards of spelling, grammar and punctuation in English classes and it was found that some schools had pupils who could not read or write well enough.
More practical writing skills lessons are needed say inspectors.
However they also said the majority of pupils achieved good standards in spoken English.
The education inspection body carried out inspections in a sample of 20 primary and secondary schools.
It found that pupils aged seven to 14 were also struggling to keep up with their peers in other parts of the UK.
The report, which makes 11 recommendations for improvement, also found:
Pupils from disadvantaged backgrounds do not achieve as well as others and this gap widens as pupils progress from primary to secondary school
There is still too much poor quality marking of pupils' work
Teachers do not provide enough guidance on how to improve and progress is not tracked well enough
Schools need to continue to focus on raising standards of pupils' independent writing and provide challenging work in English to stretch all pupils
Girls continue to do better than boys, although the gap in boys' and girls' performance has steadily narrowed
"Their written work is often short, featuring a narrow range of styles and purposes, and has too many punctuation and spelling errors," said the report.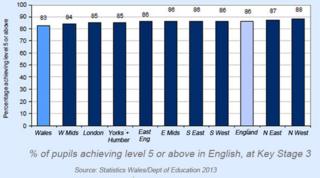 Wendy Young, report author, said it chimed with what employers had been saying about some pupils not being equipped with basic reading and writing skills.
"We found teachers are focusing too much on story-writing, on fiction, when it's important to make sure pupils have skills in writing which will equip them for not only college but work and everyday life," she told BBC Wales.
"They need to have those practical writing skills so they can fill in a job application or mortgage application."
There have long been concerns at pupils' performance falling behind the rest of the UK in the international Pisa tests when Wales ranked 41 in reading out of 68 countries.
Ministers introduced what they called "clear, consistent and rigorous" new tests last year to try to drive up standards.
"Inaccuracies in spelling, punctuation and grammar reduce the quality of writing and affect standards," said Estyn's chief inspector Ann Keane.
Education Minister Huw Lewis said the challenge was now to raise standards across the board.
He added: "We recognise however that improvements need to be made, particularly in relation to standards of writing and the performance of pupils from disadvantaged backgrounds.
"Estyn's comments about poor quality marking and feedback also need to be addressed. This is not good enough and has to change."
Shadow Conservative education minister Angela Burns said: "Clear inequalities remain rife - and the gap with other parts of the UK is nothing short of a tragedy.
"While any improvement must be praised, this report highlights yet more concerns for our children and we expect Labour ministers to act on it."

CASE STUDY - Ysgol Y Faenol, Gwynedd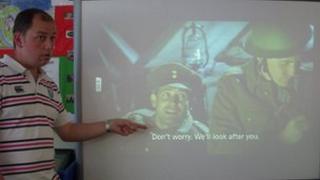 In this school, staff use technology to enthuse and motivate pupils and develop English skills.
Special events are also held at the school and parents are encouraged to nurture a culture of reading at home. English is taught as a second language to 20% of pupils so linguistically it is very challenging.
"One particular lesson focused on a novel by Phil Carradice, The Black Chair, about the Welsh poet Hedd Wyn. This was a novel beyond the pupils' current knowledge and was brought to life by watching a clip of the film Hedd Wyn.
"ICT resources were used during the lesson to engage children in reading by developing their analytical reading skills. The lesson was aimed at the more able and talented pupils because as a school.
"Our motto is 'A rising tide lifts all ships'. We have high expectations of all our pupils."