Land's End to John O'Groats straight line challenge success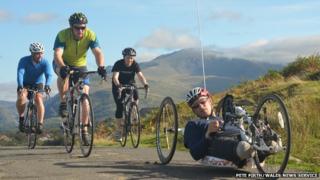 Two Welsh fundraisers have completed a 680-mile (1,100km) challenge to travel from Land's End to John O'Groats in a straight line.
Tori James, from Cardiff, and Adam Harmer, from Llanberis, Gwynedd, crossed seas, valleys and mountains in kayaks, bikes and on foot.
They were part of a four-person team raising money for Blesma - the British Limbless Ex-Service Men's Association.
It took them 28 days to cover the distance.
During their mammoth trip they crossed the Irish Sea, Isle of Man and the Cairngorm mountain range in Scotland.
The Beeline Britain challenge involved 100 hours in a sea kayak, including one of the longest sea kayak voyages in UK history which lasted 34 hours from Land's End to Pembrokeshire.
It also involved spending a gruelling eight days on a bike and days walking across some of Britain's highest peaks.
Ms James, 32, who became the youngest British woman to summit Mount Everest at the age of 25, and has previously raced to the North Pole and cycled the length of New Zealand, said: "I was privileged to be asked to join the Beeline Britain team.
"When I realised that a straight line passed through my home county of Pembrokeshire and that it would challenge me to take on a new sport, sea kayaking, I couldn't say no."
Part of the challenge team was ex-serviceman Nick Beighton who lost both legs in a Taliban bomb blast in Afghanistan.
'Iconic journey'
Mr Beighton, 32, was a captain in the Royal Engineers when he was severely injured. But he has since gone on to represent Team GB in rowing at the London Paralympics.
"This has been a tough challenge. My body has been blown up and bolted back together again and I know Beeline Britain would test it to its limits," he said.
"For me I wanted to show how life changing injuries don't limit your ability to tackle epic challenges."
RAF helicopter crewman Ian O'Grady and Gwynedd outdoor instructor Adam Harmer completed the team.
"No one has ever attempted the distances that we have kayaked on this journey," said Mr Harmer.
"At the beginning we weren't even sure that it would be possible to kayak for such long distances, through some of the world's highest tidal ranges.
"It's amazing. Such an iconic journey completed in such a simplistic but challenging way.
"It leaves me speechless."
Prince Harry phoned the team to congratulate them after they arrived at John O'Groats, saying they had done a sterling job.