Rape reporting up in north Wales a year after unit launched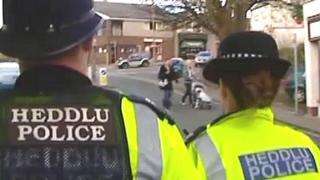 Reports of rape have increased by nearly 17% a year after the launch of a specialist unit to deal with the crime in north Wales.
The North Wales Police Amethyst team, the Crown Prosecution Service and Betsi Cadwaladr health board have gathered evidence and supported victims.
Along with a rise in reports, 90 cases have been detected by police in 2013-14 compared to 69 the year before.
The creation of the unit followed an increase in rapes and sexual offences.
Six specially trained officers form part of the team.
Police said of the 16.9% increase in reports of rape since last year, around 40% were historic cases "indicating that victims are now finding the confidence to seek support for the crimes they have suffered".
'Increased confidence'
North Wales Police said the Amethyst team had been held up as an example of excellence at national level and team managers had spoken at national conferences and had featured in police magazines.
Det Insp Kelly Isaacs of North Wales Police said: "I'm encouraged by the increase reporting which anecdotally confirms victims have more confidence in the way they are managed by our specialist multi agency team."
North Wales Police and Crime Commissioner Winston Roddick said he was delighted at the success of the Amethyst team in targeting rape crimes.
"I congratulate the team for their excellent work over the past 12 months, not just in dealing with cases of this heinous and obnoxious crime as they occur but also in instilling the confidence in victims of historic rapes to come forward and report them," he added.