Queen's Birthday Honours for Warren Gatland and Cerys Matthews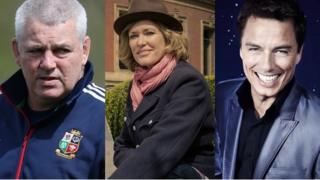 Leading figures from sport, entertainment and public service in Wales have been recognised in the Queen's Birthday Honours list.
Wales rugby coach Warren Gatland receives an OBE, while Swansea City director Gwilym Joseph is given an MBE.
MBEs go to singer Cerys Matthews and actor John Barrowman, best known for the BBC Wales sci-fi drama Torchwood.
Prof Michael Owen of Cardiff University is knighted for his work in neuroscience and mental health.
He has been praised for his research into genetic causes for conditions such as schizophrenia, bipolar disorder and Alzheimer's disease.
Prof Owen said he felt the university had "worked hard to put psychiatry on the map" and he felt lucky to have "a great team to work with".
The honour for New Zealand-born Gatland follows his success in coaching the British and Irish Lions to a 2-1 series victory against Australia in 2013.
Gatland is with the Wales squad in South Africa as they look to their first test match against the Springboks on Saturday.
He said news of the OBE came as a "bit of a surprise".
"It's a massive honour, I'm absolutely over the moon. I'm very proud and humbled, really," he added.
"As a Kiwi I know they did their Queen's Birthday Honours list a couple of weeks ago and that has a real New Zealand flavour. To receive something in the UK as a Kiwi is pretty special."
OBEs also go to Janet Hayward, head teacher of Cadoxton Primary School in Barry, Vale of Glamorgan, and Shahien Taj, executive director of the Cardiff-based Henna Foundation which supports Muslim women.
Former Catatonia star Matthews said she felt her MBE was more for the music of others she was playing as a BBC radio presenter than for her own solo work.
"I am passionate about sharing music, through writing books, making documentaries and, of course, through the wonder that is radio, to an ever widening audience - and to receive recognition for this is incredible," she said.
Rob Humphreys, director of the Open University in Wales is made a CBE, as is Torfaen council leader Bob Wellington.
Among those honoured for charity work in their local communities is Sparrow Harrison, founder of the Cae Dai Trust which helps homeless and disadvantaged people in Denbigh, Denbighshire, who receives the MBE.
Sandra and Stuart Peacock from Barry, Vale of Glamorgan, who have fostered more than 100 children over 45 years, said they were "ecstatic" to be awarded the MBE, especially as the nomination came from one of the children they had fostered.
David Williams from Aberdyfi, Gwynedd, is given the MBE for more than 40 years service as a lifeboatman and mountain rescuer.
Denys Jenkins from Carmel, Carmarthenshire, well known in Llanelli as pantomime star Denny Twp, receives the British Empire Medal.