Firefighters end 24-hour strike in pensions row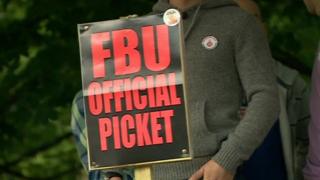 Fire services across Wales say they coped well during the 24-hour strike by staff in a dispute with the UK government over pensions.
South Wales said it prioritised responses after a high number of Fire Brigades Union (FBU) members reduced its service.
Mid and West Wales said it operated at around 88% availability during the strike.
North Wales said the calls it received were significantly lower than expected.
The firefighters taking part in the industrial action object to plans to raise their retirement age from 55 to 60, and increase pension contributions.
The 24-hour walkout, which ended at 09:00 BST on Friday across Wales and England, was the longest strike action carried out by members of the Fire Brigades Union in the three-year campaign.
The UK government has said firefighters had one of the most generous pension schemes in the public sector.