Moelyci Environmental Centre: Money troubles might force sale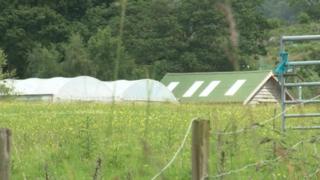 One of the UK's first community-owned farms is facing financial troubles and might have to be sold.
The 750 shareholders in the Moelyci Environmental Centre near Bangor will meet at the end of the month to discuss a planned take over by a Powys charity.
But this could involve the sale of Moelyci mountain and the building of affordable housing and a renewable energy project on the farm site.
Moelyci was set up 10 years ago when the previous owners put it up for sale.
Local people came together to buy it to prevent it being developed as a holiday home complex.
It now includes 350 acres of land, 250 acres are part of a site of special scientific interest, a farmhouse and farm buildings, allotments and a market garden.
Last year, as a result of financial problems the board of directors bought in the Powys-based charity the Cwm Harry Land Trust to help manage Moelyci.
The trust, which is involved in recycling and land management, was set up in Newtown 15 years ago.
In a confidential letter to shareholders, seen by BBC Wales, the trust now suggests it should be given a 28-year lease on the property, with an exclusive option to buy during the first three years.
It said it intended to invest around £180,000 in the venture.
In a letter to shareholders, the Moelyci board of directors said: "Our organisation is at a crossroads and has to face a decision, to cease trading because we will shortly become insolvent or take the bold step of involving a third party."
A spokesman for the Moelyci board said it would not be making any comment on the proposals until after the shareholders meeting on 27 June.