Ethnic minority elders offered help by new project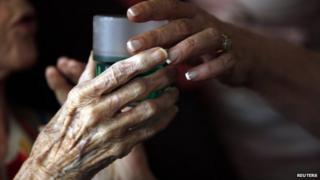 Older people from ethnic minorities in Wales need help to tackle a range of distinctive problems, backers of a new project have said.
The Minority Ethnic Elders Advocacy scheme is being financed for three years by the Big Lottery Fund.
Race Equality First said older people suffered from discrimination, language barriers and health issues.
Project co-ordinator Rez Jamal said ethnic minority families did not always look after their elders.
Mo Hussein, 59, is a wheelchair user from Cardiff with a range of health issues who has been helped by Race Equality First:
I had a lot of problems with paperwork that social workers didn't have time to handle.
There were so many things piling up and because of the problems I have it was stressing me out and getting me into depression.
But Race Equality First started helping me out.
If I needed to get in touch with my care agency or someone to contact the hospital, they would do that for me.
There are a lot of older people from ethnic minorities who need help because of the language barrier and other issues.
They cannot express exactly what they want so they need such a group to help them - they make it feel easier.
The scheme aims to help ethnic minority elders express their views, secure their rights, represent their own interests and obtain the services they need.
"There can be this misconception with certain minority ethnic groups that we always look after our own, but that is not necessarily the case especially with second generation immigrants who are leading very different lives than their parents," said Mr Jamal from the Cardiff-based group.
"As a project we see the uptake of minority ethnic elders residing in care homes increasing in the near future," he added.
"This is where policy makers and private care companies need to be prepared and make the changes to accommodate our elders in generations to come."
Race equality bodies in Swansea, Newport and north Wales are also involved in the project.
It will be launched by the older people's commissioner Sarah Rochira in Cardiff on Wednesday.