Peter Hain will look for 'new challenges', says Carwyn Jones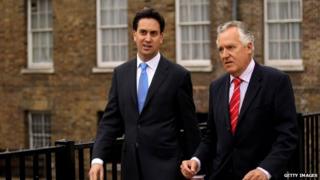 Former Labour cabinet minister Peter Hain, who is to stand down as Neath MP, will take on new challenges and be a "tremendous asset" in whatever he does, according to the first minister.
Mr Hain, who has held the seat for more than 20 years, has said he will continue to be involved in politics.
He was due to stand in the 2015 election but changed his mind after talks with Labour leader Ed Miliband.
First Minister Carwyn Jones said he was surprised by the decision.
"We never expect these things. I didn't expect it," Mr Jones told BBC Wales.
"Peter is somebody who was very, very active and will be very active in what he chooses to do in the future.
"People make their own decisions of course and he will be a tremendous asset to whatever and whoever he works with in the future."
He paid tribute to Mr Hain's record in opposing apartheid and added that he could not see him retiring from politics.
During his lengthy career, Mr Hain served in the cabinet under the former prime ministers Tony Blair and Gordon Brown, with stints as Northern Ireland Secretary, Welsh Secretary, Work and Pensions Secretary and Leader of the House of Commons.
Mr Hain had been reselected to fight the 2015 election for Neath but said he would now find "new ways" to be involved in politics.
He said: "Politics is in my blood and I will stay active in politics.
"I'm going to be spending time supporting the party in Neath as it selects my successor, supporting whoever that is, fighting for Labour to win the next election."
He said he would be active in politics in "different ways", adding: "I'm not going away."
Mr Hain's announcement came just ahead of the 15th anniversary of the National Assembly for Wales which he fought for as one of the main supporters of devolution.
The MP was raised in South Africa and first came to public attention as an anti-apartheid campaigner before entering mainstream politics.
He was forced to leave South Africa in the 1960s with his parents because of their support for Nelson Mandela, one of the leaders of the then banned political movement, the African National Congress (ANC).
He went on to become Neath MP at a by-election in 1991 and became a whip and then a junior minister in the Welsh Office when Labour won in the 1997 landslide.
In October 2002, Mr Hain became Welsh secretary before becoming Northern Ireland secretary in May 2005, working with Mr Blair and then Irish Taoiseach Bertie Ahern to persuade all parties to end the political deadlock in the province.
In 2007 he threw his hat in the ring for the deputy Labour leadership but failed to properly register donations to his campaign, leading him to quit as Work and Pensions and Welsh secretary the following year.
In 2009 he returned to government as Welsh secretary.