National Dance Company Wales faces call for inquiry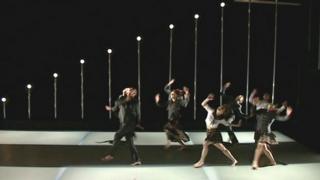 There have been calls for National Dance Company Wales to be investigated by the Welsh financial watchdog.
Officials from the Wales Audit Office have agreed to meet a Plaid Cymru AM about the issue, amid concerns about the way the organisation was run.
A report for the Arts Council of Wales (ACW) said it was "facing a crisis in its governance and its management".
The dance company's chairman says it is planning to recruit new board members and senior staff in the autumn.
The Welsh government said the ACW was keeping it informed.
Meanwhile, BBC Wales has learned Cardiff-based National Dance Company Wales (NDCW) received an additional £40,000 from the ACW earlier this year.
The company's chair, Andrew Davies, said the extra money was for costs connected to the departure and recruitment of an artistic director.
Auditor General Huw Vaughan Thomas has agreed to meet Plaid Cymru culture spokesperson Bethan Jenkins to discuss the party's concerns about NDCW in his role as external auditor of ACW, which provides 85% of NDCW's funds.
In April former NDCW board member Christine Lewis called on Mr Davies to resign as chairman after a report criticised how the organisation was run.
Ms Jenkins said there were questions to answer over the company's progress since the independent review was carried out, and how it had spent the £40,000.
'Urgency'
"I feel there should be some urgency," she said.
"This is a substantial pot of money that has been given to the dance company, and arrangements should be made to make best use of that money."
The independent report, seen by BBC Wales, found the board was "unable to function in an appropriate manner" and recommended a new chairman and board of directors was appointed by January 2014.
The report had been commissioned by ACW following a period of instability at the company which resulted in the resignations of NDCW founders Ann Sholem and Roy Campbell-Moore, while five of its eight directors left the company after the publication of the report.
'Renewal'
The arts council is due to give the company £853,125 during 2014/15, not including the additional £40,000 given in March.
Mr Davies said: "We are now engaged on a programme of board renewal, re-visioning for the future and obviously preparing the way for a new artistic director to take the reins with an appropriate management and board structure for the company."
A Welsh government spokesman said: "The Arts Council of Wales continues to closely monitor matters at the National Dance Company Wales and is keeping us informed of any developments."