Welsh MP's child cruelty law in Queen's Speech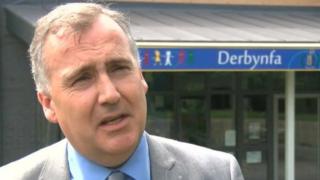 Ceredigion MP Mark Williams's campaign to tighten the law on child cruelty has won UK government backing.
The Queen's Speech at the state opening of parliament included plans for a "Serious Crime Bill to tackle child neglect".
Mr Williams wants a "Cinderella law" that could see parents in England and Wales prosecuted.
It was also confirmed that the Wales Bill would continue its passage though parliament.
That bill will give the Welsh government some taxation and borrowing powers.
The proposals form part of David Cameron and Nick Clegg's plans for their coalition government's final year in power.
Mr Williams introduced his own private member's bill to change the law on child cruelty but it failed due to lack of parliamentary time.
The Serious Crime Bill will extend the definition of child cruelty to ensure it covers the most serious cases of emotional neglect and psychological harm.
The bill will also outlaw written paedophile material.
'Powerless'
Mr Williams said the bill would allow agencies to work together more effectively to safeguard children.
He said: "There is currently an anachronism in our laws where the physical or sexual abuse of children is criminal, but emotional and psychological abuse is only criminal if over-16s are the victims.
"There is a mismatch between a civil law that recognises the damage which emotional and psychological abuse has on children, and an outdated Victorian-era criminal law which doesn't.
"This modernisation of our laws, a major victory for all those involved in safeguarding children across the UK, will seek to bridge that disparity."
The MP said there had been a number of cases involving children who had been "emotionally and psychologically abused" by their parents but the police and criminal justice system were "powerless to do anything".
UK ministers' 11-bill programme outlined in the Queen's Speech included plans for major pension reforms, with changes to annuities and workplace schemes.
Employees will be allowed to pay into collective pension funds shared with other workers, a move it is hoped will cut costs and encourage saving.
There are bills proposed to give older people more control of their pension pots and to give working parents tax breaks for childcare bills.
England will follow Wales in introducing a charge for plastic bags,
Voters will also be given limited powers to force by-elections if MPs misbehave.
'Zombie government'
Welsh Secretary David Jones said the legislative programme "reaffirms our commitment to improve the lives of people in Wales and across the United Kingdom".
But Plaid Cymru parliamentary leader Elfyn Llwyd said it was an "uninspired Queen's Speech delivered by a government that has well and truly run out of steam".
He said: "With pensions being the only announcement of real substance, there are strong indications that the coalition itself is ready for retirement.
Shadow Welsh Secretary Owen Smith agreed that there did not seem to be much in the speech.
"I'm not sure you measure the success of a government by how many bills it passes, but these aren't bills that are equal to the scale of the challenges we face, that's the key criticism we've got to make of them," he said.