Wales sees rise in spending money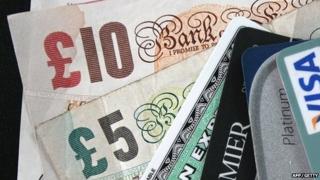 People living in Wales have had the second largest rise in the UK in the amount of money they have to spend, according to the latest figures.
The Office for National Statistics said gross disposable household income (GDHI) in Wales was £14,623 in 2012, up by 3.8%.
Only the north east of England had a larger rise at 4%.
However, Wales is still more than £2,000 behind the UK average of £16,791 and almost £7,000 behind London.
The measure shows how much an average individual has to spend or save, rather than a household unit.
The amount is that left after income distribution measures such as taxes, social contributions and benefits have taken effect.
The Federation of Small Businesses Wales said although the increase initially appeared positive the figures gave "some worrying indications of the underlying strength of the Welsh economy".
Iestyn Davies, head of external affairs, said: "They show that no other part of the UK is more reliant on benefits and pensions for household incomes than Wales.
"A total of 26% of the income of people in Wales is down to such benefits and social contributions."
He added: "It is clear that the wealth being created in Wales is falling behind in comparison with other regions."
Mr Davies called for a "new economic strategy" for Wales.