Plans for Welsh prominence on road signs criticised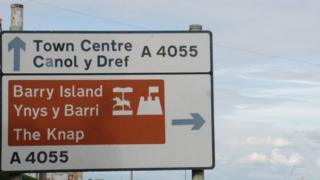 Plans for the Welsh language to be given greater prominence on road signs and many other public signs have been criticised by some councils.
The Welsh government's proposal for signs to be designed so the Welsh is read first has been endorsed by the Welsh language commissioner.
This would mean the Welsh words being above, or to the left, of English.
Several councils, including Newport, objected to the principle of putting Welsh first.
Local authorities currently decide whether to give greater prominence to Welsh or English on signs but that would change under the proposals.
However, even if the plans come into force, it is understood new wording would only be used when existing signs are replaced.
Objected
The plans for signs are part of a much broader range of more than 100 standards proposed by the Welsh government for the Welsh language.
The current batch of standards being considered are aimed at local authorities in Wales, national park authorities and Welsh ministers.
Many local authorities opposed giving Welsh prominence on signs in their response to the Welsh language commissioner's standards investigation.
"Several county councils and county borough councils objected to standards which elevated the Welsh language, mainly in relation to signs," said the Welsh language commissioner's report.
"Apart from the cost and practical reasons, a number of them objected to the principle of putting the Welsh language first."
The Welsh language commissioner's conclusions confirm Welsh should be given priority on signs erected by councils.
International languages
But Newport council said it felt that Welsh should not have prominence in signage in its response to the Welsh government's consultation on the proposed Welsh language standards.
A spokesperson said data from the 2011 census showed that only 6.3 % of its population could write, read and speak Welsh while more than 100 international languages are spoken in Newport.
"Therefore, Newport City Council feels it would be disproportionate for Welsh to appear first on signage as it would not meet the needs of the vast majority of its residents," the spokesperson added.
The plans must now go back to the Welsh government and assembly before they are imposed.
Welsh language lobby group Cymdeithas yr Iaith said the standards related to signs were "well-established government policy".
"Indeed, they reflect recommendations in the 1972 Bowen report on road signs," said a spokesperson.
"Forty-two years on, it would be bizarre for anyone to argue they're unreasonable: that's why so many councils, including Cardiff council, accepted them."