South Wales Police sack 13 PCSOs after exam cheat claim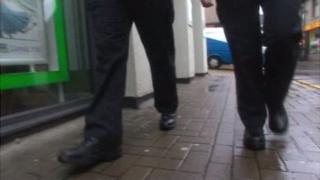 Thirteen Police Community Support Officers (PCSO) have been sacked and one has quit after an allegation of cheating in their final exam.
South Wales Police said the 14 PCSOs were between four and five months into their six-month probationary period.
The cheating was discovered after an "unusual spike in the results".
Director of Human Resources, Mark Milton, said after probationary hearings 13 of the PCSOs were dismissed and one resigned.
He said the force would not tolerate breaches of ethical standards.
Its understood that community support officers who were alleged to have cheated were all in training and had not been allocated to any particular command unit.
A spokesman said: "An unusual spike in the results was identified and the cheating was identified after this was investigated."
South Wales Police has about 482 PCSOs. There are around 15,000 across England and Wales.
About half of the sacked PCSOs are members of the Unison union, which is seeking legal advice.
The community support officers do not need a formal education but are required to pass the Police Initial Recruitment (PIR) test.
The police force says they "play a vital role in tackling anti-social behaviour and crime in communities throughout south Wales".
'Vital role'
The south Wales force launched a major drive to recruit PCSOs two years ago at a time when front desk staff face cuts.
It was part of a scheme called the Accessibility Strategy.
The then deputy chief constable Colette Paul said the PCSO would play a "valuable and vital role" in providing face-to-face contact with the public.
PCSOs work as part of a force's neighbourhood policing team, supporting warranted officers and community action teams to solve local problems.
They deal with minor offences, under powers granted by a chief constable, and support frontline policing with house-to-house enquiries, providing crime prevention advice, and guarding crime scenes.
In most forces, they are equipped with a protective vest, but do not carry handcuffs, batons or sprays such as CS gas, because they are not deployed in confrontational situations.
They carry a radio, and often a mobile phone.