Sherlock star ambushes Dame Judi Dench at Hay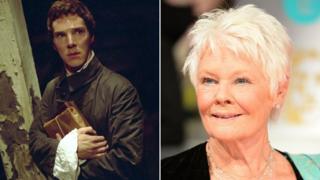 Dame Judi Dench is to star alongside Sherlock star Benedict Cumberbatch in a forthcoming adaptation of Richard III after he ambushed her during her appearance at the Hay Festival.
She was being interviewed by TV and theatre director Richard Eyre as the literature festival drew to a close.
Cumberbatch - who had a front row seat - seized his chance during a question and answer session with the audience, asking Dame Judi to star in the play.
She replied "Yeah!".
The actor, who will play King Richard III in the new film, has reportedly been pursuing Dame Judi to star alongside him for several months.
After watching the question and answer session Cumberbatch joined Dame Judi on stage to perform short excerpts from plays including Antony and Cleopatra.
The Sherlock actor had been at the festival in Powys to take part in another event reading love letters on Saturday.
Filming on the BBC's new production of Richard III is due to begin later this year.
It is part of the Hollow Crown series of Shakespeare plays which were first broadcast on television in 2012.
During Sunday's event Dame Judi also paid tribute to her brother Jeffrey Dench, the Shakespearian actor who had been due to join her on stage but who died earlier this year.
Dame Judi's appearance was one of the final events of the Hay Festival, which has attracted tens of thousands of visitors to the town of Hay on Wye for a celebration of literature and the arts.
Selected highlights are available on the BBC Arts site.